One of the other really fun things we have done in the last month is go soaring (gliding) with
Honolulu Soaring
on the famous North Shore of Oahu.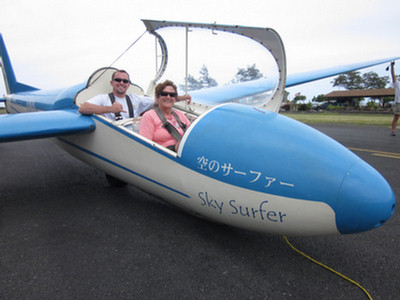 Getting Ready to Go Up in Sky Surfer
This was another totally awesome tourist adventure. The airport is just inshore from the beach, and right next to some high cliffs. So the soaring on the updrafts along the ridgeline was really cool, and then when we got high enough, we went out over the ocean to look for whales.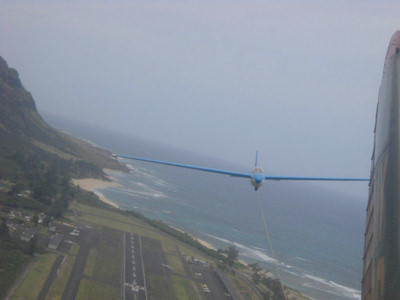 Great Shot from the Tow Plane
Photo by Rob Host
Once we got to 1000 feet and detached from the tow plane, I got to take the "stick" (drive the plane) for a little while. It has been a long time since I've flown an airplane, and I was really overcontrolling. The glider is so light that it takes a feather-light touch on the stick to keep it on course and level.
After a few minutes of totally concentrating on the instruments and keeping the wings level and staying in the up-draft, I finally handed the controls back over to the instructor so I could relax and sightsee.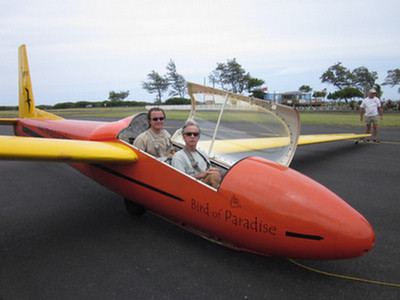 Dave Getting Ready for His Flight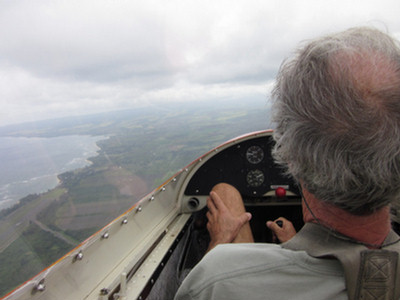 Dave Flying Over the North Shore of Oahu
Dave and I each got our own ride with an instructor, but they also have a plane that you can go up with two people together (and a pilot), if you want to.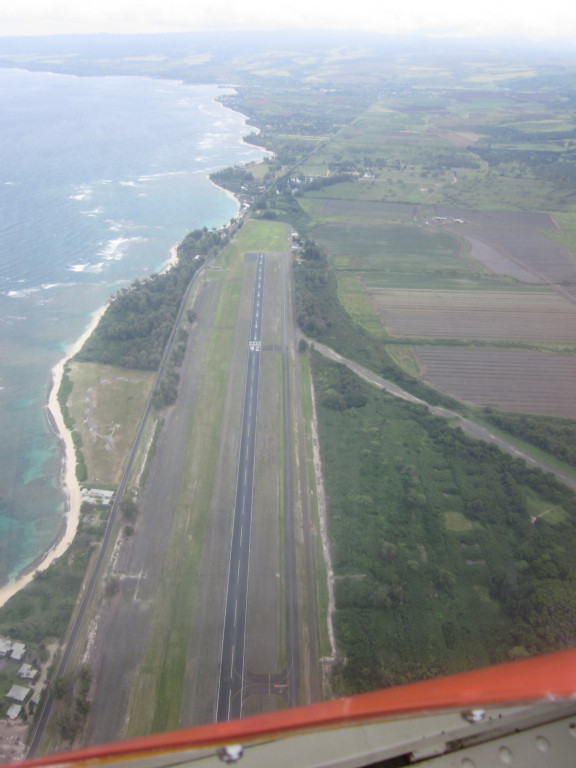 Lining Up for the Landing
I really recommend checking out
Honolulu Soaring
(aka
The Original Glider Rides
) if you're on Oahu and want to do something different. And if you don't have a rental car, they'll arrange transportation out from Honolulu for you.
And a big Mahalo (thank you) to Dusty and Sam and Claudia and Rob (all from
Woodstock Properties
) for setting this adventure up for us. Going up in a glider has been on my 'bucket list' for a long time!!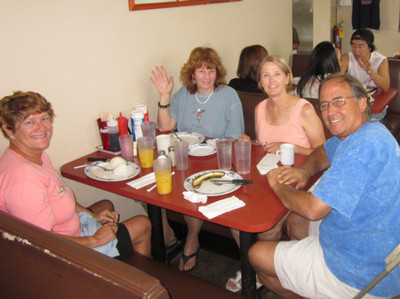 Dusty, Claudia, and Rob at the 49er for Breakfast
After our glider rides, we had a chance to explore Dillingham Field for awhile. Skydiving, gliding, biplane rides, instruction, oh my!! Just my kind of place! (sigh... there's never enough time to do everything I want to be doing!!)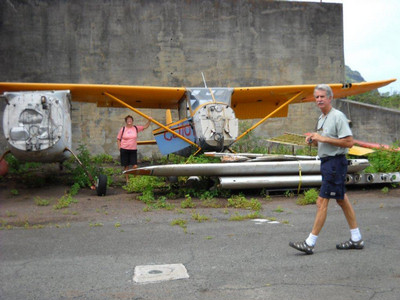 This was NOT Our Plane!!
Photo by Claudia Host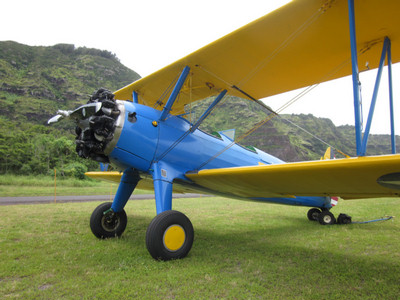 My Next Flying Adventure