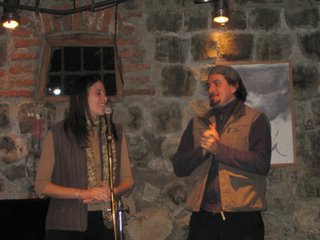 One pair of travelers we met while hiking in Torres del Paine were a very well educated Mexican couple in their mid-30's taking a year off for storytelling and traveling South America.
They normally do their storytelling either at fairs, or in an intimate venue like a night club. They have managed a number of 'gigs' while they have been traveling.
We had made Arturo promise to do a storytelling night in English while we were on the Navimag Ferry, but unfortunately that opportunity got canceled.
So when they told us they were doing a night of storytelling in Santaigo, we made an effort to go see them. They did it at Meson Nerudiano, in the bohemian section of Santiago (a short trip by Metro and a few blocks walking).
Meson Nerudiano is an elegant restaurant with a nice 'wine cellar' kind of basement that they use for intimate entertainment. We bought dinner, paid a cover charge, and bought some expensive drinks, just to see what their 'storytelling' was all about.
Unfortunately it was all in Spanish, and though our street Spanish is reasonably good, we didn't understand much of the stories being told. But the rest of the crowd seemed enthusiastic and amused. It reminded me of a stand up comedy show... with a little less comedy and a story theme.
They have a blog about their travels (but it's in Spanish)
http://viajeros08.blogspot.com/