After 1 ascent of the mast by me and 8 ascents by Dave, we have finally replaced all the upper and middle mast tangs, mounted the new tricolor light, mounted the lighting spike and mounted (and unmounted again) the spinnaker halyard bail.
Dave brought with us from States 4 sets of mast tangs that he had Rick Heim from Gulf Coast Industrial Repair of St. Pete, fabricate to his specifications (316L stainless). (Dave highly recommends Rick for any metal fab work). A set consists of 4 pieces of stainless and a very large stainless bolt. (see pic below, of 2 sets).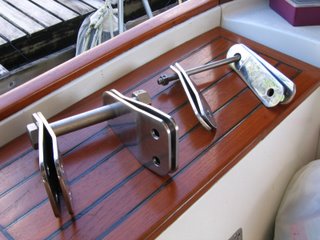 These are to replace the 30 year old tangs that is the last piece of original standing rigging (besides the mast itself) left on the boat. The originals were 304 stainless. They appear OK, but you never know until the worst possible time, when something like that might break on you. So before we did any major ocean passages, he wanted to get these replaced. When he gets a chance, he'll document the whole thing in his
Workshop
section of the website.