My job in the last few days, in between tending Dave up the mast and shopping trips ashore, has been to replace the gaskets in all the portholes.
On Soggy Paws, there are 6 small porthole up forward, 9 large portholes aft, and one strange one in the cockpit. All have 10 year old gaskets, and about half of them were leaking a little, even when dogged tight.
My job was to remove the porthole cover (the bronze and glass part that swings down to latch the porthole shut), pry out the old gasket, and glue in a new gasket with contact cement. It's pretty simple.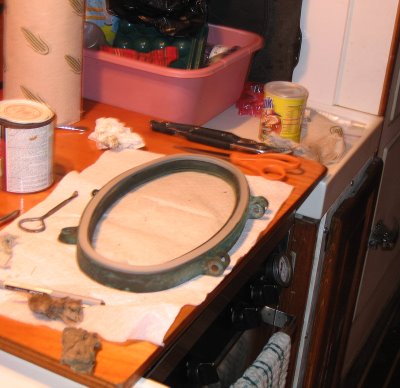 Old Porthole, New Gasket
We 'water tested' the first few that I did... sprayed the porthole with the hose to see if we could force a leak. All the new ones seem watertight.
We expect a few miles 'slogging to windward' in the next few months, so this was an important job to get checked off before we set out.