TROPICAL STORM (TS) 03W (FAXAI) HAS TRACKED NORTHWARD AT 05 KNOTS OVER THE PAST SIX HOURS. ANIMATED ENHANCED INFRARED IMAGERY DEPICTS A CONSOLIDATING LOW-LEVEL CIRCULATION CENTER (LLCC) WITH IMPROVED DEEP CONVECTIVE BANDING WRAPPING INTO THE LLCC. A COMPOSITE IMAGE DEPICTS A MICROWAVE EYE FEATURE WITH MULTIPLE DEEP CONVECTIVE BANDS, PRIMARILY OVER THE NORTHERN SEMI-CIRCLE, WRAPPING INTO THE CENTER. THERE IS HIGH CONFIDENCE IN THE CURRENT POSITION.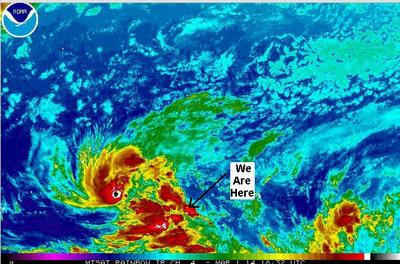 Typhoon Faxai Brewing Up
TS 03W REMAINS UNDER COMPETING STEERING INFLUENCES, NAMELY, THE WEAK SUBTROPICAL RIDGE (STR) POSITIONED TO THE NORTHEAST AND THE NEAR-EQUATORIAL RIDGE (NER) POSITIONED TO THE SOUTH. THEREFORE, THE SYSTEM IS TRACKING SLOWLY.
NUMERIC MODEL GUIDANCE IS IN FAIR AGREEMENT, HOWEVER, FORECAST CONFIDENCE REMAINS LOW DUE TO UNCERTAINTY IN THE SHORT-TERM MOTION.
We originally planned to check out of Pohnpei Friday, stay the weekend at Ant Atoll (25 mi SW of here) again, and then leave when this weather moved off. We are headed 270 miles SW of Pohnpei to a tiny atoll called Lukunor or Lekinioch.
Well that half-formed tropical system has been sitting just west of us for over a week. At first, every day's new Grib file would show it organizing, picking up speed and intensity, and moving off toward the NW the next day. But it's now a week later and it is still sitting in almost the same place. A big cold front swooped down and blocked it from moving NW. But now the cold front has gone and it's still sitting there.
But they did name it (a weird name--Faxai) yesterday, and the Joint Typhoon Warning Center has gotten involved in the forecasting. So we are hoping Faxai will really move off tomorrow so we can get out of here!
Here's a link if you want to keep track of what's happening via satellite photo:
http://www.ssd.noaa.gov/mtsat/wcpac/flash-rb.html
(of course, if you are reading this next week, this won't show the typhoon, but our CURRENT weather! However, a still shot is above.
The only problem is, as soon as Faxai moves safely away, there won't be any wind left :P
If you want to read about the area we'll be cruising in in the next couple of months, we have published a fairly complete Micronesia Compendium (a PDF file), gathered from internet research and from inputs from other cruisers ahead of us--there is no cruising guide out here. You can download a free copy from here:
http://svsoggypaws.com/files/index.htm#north-pacific
-----
At 03/01/2014 7:20 PM (utc) our position was 06°57.75'N 158°12.06'E