We had an easy overnight passage, with steady winds from 10-15 knots almost square on the beam.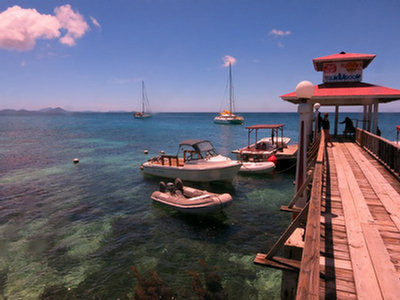 On a Mooring at Truk Stop Hotel and Dive Center
We went through one of the several passes on the SE side at 8:30am. The sun was rising behind us and we could see just fine. My original route had us taking a direct line into Weno, cutting between two big islands. But that track was strewn with various reefs, and our CM93 chart was of unknown reliability, and we didn't have a good Google Earth chart (we hadn't been coming here!). So we decided to take the longer route around. This added about 5 miles to our trip, and would mean that we'd get to the dock around 11:30, pushing it for a "no overtime" check-in.
We decided to slow down and arrive at 1pm. That way, there was little chance of anyone doing the "overtime game" on us. There are numerous horror stories about outrageous checkin fees and hassles at Chuuk. (It turned out that we could probably have easily navigated the trickier route--we had a very nice day and mild conditions).
From another cruiser who came before us (thanks, Trigger), we had the phone numbers of all the officials. And we had a cell phone from Pohnpei AND minutes. So Dave called each one and made an appointment for 1:30pm. The only official we couldn't get ahold of was the Port Captain. Normally, the Port Captain is the FIRST guy you call--usually on VHF. And normally, HE arranges all the other officials. However, Chuuk is different. It turns out that the Port Captain doesn't even have an office or a VHF. We had an office phone for him, but apparently it is disconnected. We had a cell phone number but we got "we are unable to reach this number". Dave called another of the officials back and asked if he could get ahold of the Port Captain for us, but they were not able to reach him either.
We docked at the big ship pier (high concrete docks, but with big rubber fenders) between two fishing boats, at 12:59. At 1:30, Customs and Health showed up, and a few minutes later, Immigration. Why we need so many officials on a "National" check-in, I don't know. But all wanted a copy of our paperwork, so I was hopping taking care of that while Dave schmoozed the officials. Thank GOD for our printer/copier scanner--I wouldn't go international cruising without one.
Within an hour, all our formalities were completed EXCEPT the Port Captain. Dave had one of the other officials try to call him again. And he asked the other two boats nearby, if they knew where he was. We had lots of onlookers--truck drivers and dock workers (a big ship had just departed after unloading a bunch of containers), but nobody knew where the Port Captain was. So we waited. Finally about 4:30, he shows up. We gave him some more copies, and he told us all the fees we'd have to pay on checking OUT. (a couple of $30's, then $25 for first 48 hrs and $10 per day after that). We knew about these already, so instead of gasping, Dave just smiled and said OK. It's a lot cheaper than flying here and staying in a hotel!
So we are now anchored off the Truk Stop Hotel in downtown Weno, Truk Lagoon, Federated States of Micronesia. 07-25.5N / 151-50.23E. We are taking a "land tour" this morning and then diving this afternoon. We actually found some fresh veggies yesterday in a supermarket--broccoli, carrots, lettuce, celery, onions, potatoes, cabbage. We didn't find any Lays (or similar) Potato Chips. Just funky Asian chips (chicken-flavored, and other weird tastes). But we're still looking.
Dave told the officials we'll be here two weeks--but really we'll stay until we are finished diving, and have had a couple of "land tour days" and a day to finish reprovisioning.
-----
At 03/20/2014 8:48 PM (utc) our position was 07°26.51'N 151°50.23'E
http://svsoggypaws.com/currentposition.htm