For almost a week now--ever since our friend Curly in Savusavu sent us an email warning about a possible Cyclone developing near Fiji--we have been watching what is now Tropical Cyclone Evan develop.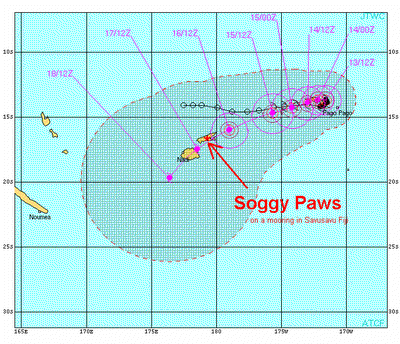 Tropical Cyclone Evan Over Samoa, Heading for Fiji
Forecast Map Courtesy the US Navy Joint Typhoon Warning Center
In the map above, the black line is where Evan has already been, and the magenta line is the forecast track.
Originally, Evan was heading NE, away from us, and toward American Samoa (see Pago Pago on the map). But the GRIB files (the only thing forecasting the development a week ago) showed it turning around over Samoa and heading right back toward Fiji. Originally, the forecast had Evan passing well to the east and south of Savusavu, where Soggy Paws is. So we were watching Evan develop, but were not too worried. However, yesterday's forecast picture showed TC Evan going right over where Soggy Paws is, at nearly 100 knots!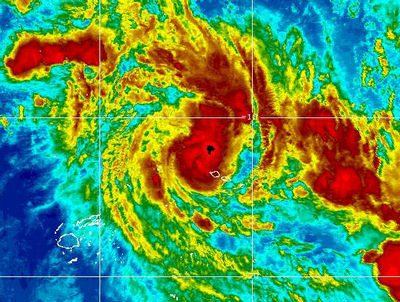 Current IR Satellite Picture of Evan Over the Samoan Islands
Courtesy the NOAA Satellite Information Service
Fortunately, this morning's forecast has moved the track further north still, and it looks like it will pass far enough away that it will be an "exciting event" rather than a total disaster for Fiji (and Soggy Paws).
Now that we're not totally scared about what might happen, all we have to do is figure out how to get back to Soggy Paws most efficiently. Our existing reservations take us from Atlanta to LA on Saturday afternoon, and then overnight from LA to Fiji, arriving just about the same time as Evan!! (We cross the dateline going back, so after much head-scratching, we have figured out that we will be landing in Fiji Dec 17 at 0600 local Fiji time, which is the same as Dec 16th at 1800 UTC).
So the question is... do we hang in Atlanta til the coast is clear?? We are with family (who we haven't spent enough time with anyway), we have a nice place to stay, and we have a car. But it means changing our discount airfare at a huge expense. (The LA leg is not with the same carrier as the Fiji leg, so it would cost double to change our whole reservation). Do we go ahead and get to LA, and then HOPE that the Fiji flight is going to go--getting stuck in LA could be as expensive as changing tickets!
Air Pacific said they would notify us about 24 hours in advance whether they planned to go on schedule or not. If THEY cancel, then we don't have to pay a ticket-change fee for their flight. Also, a good cruising friend (Bill on Solstice) emailed us and offered a place to stay in LA near the airport.
Ha ha, this is why I LOVE cruising. I don't even know Bill's last name. But, we have been cruising together, talking on nets, sharing information, sometimes sharing anchorages, etc. for the last 2-3 years. We now consider him a good friend, and he obviously feels the same way. And the place to stay he is offering doesn't even belong to him, but is a boat owned by someone else (where HE is staying in LA right now). So Bill has gone to bat for us with his friend.
Anyway, I think our current plan is to go ahead and go to LA, unless Evan takes an unexpected turn toward Fiji. It looks like there is now a reasonable chance that our Air Pacific flight WILL go on Saturday night as scheduled, and we'll beat the storm into Nadi airport in Fiji.
Then our second challenge is actually getting to Soggy Paws. The international airport is on Viti Levu (the lower left island in the picture above). Soggy Paws is in Savusavu on Vanua Levu (the elongated island where the big red arrow is pointing). It's a $150 airplane flight or a $70 overnight ferry ride to get from Nadi to Savusavu. We have reservations on the ferry going the same night we arrive. But now it looks like the water will be too stormy to risk going in even the newest ferry that Fiji has to offer. So we'll have to figure out where to stay in Viti Levu for a night or two until the sea calms down enough to make the ferry ride comfortable and safe.
Here is where yet another 'I love cruising' comes in. We have another friend, who is staying on yet another friend's boat in
Vuda Point Marina
on the west side of Viti Levu. She has offered us a place to stay for a couple of nights if we need it.
And we haven't even bothered (yet) checking up on the possible available resources like the
SSCA Cruising Stations
for LA and Fiji.
And finally, we are not too too worried about Soggy Paws in Savusavu (especially not now that we don't expect to get a direct hit), because another cruising friend, Jerry on Challenger, is on the mooring next to us. We have been talking daily with Jerry via Skype, and Jerry is watching out for us. We prepped Soggy Paws pretty well before we left, but there are still a few things that need doing before we get high winds. Jerry has been making sure the 2nd mooring line is properly hooked up, hatches dogged, solar panels secured, the last bit of canvas down, etc. (He is paying back what we "paid forward"
looking after his boat in Fulaga
a few months ago).
We are in Atlanta, mostly packed, and leaving tomorrow. I CAN'T WAIT to get back to the boat!