Even in the most perfect cyclone hole, you have to worry about your neighbors.
With a cyclone bearing down on Soggy Paws in Savusavu, Fiji, we thought we were worried about this boat: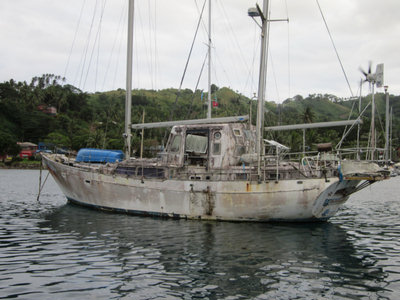 A Derelict Boat on a Mooring Near Soggy Paws
But we had no idea that a big ferry would come in and try to take refuge in the tiny creek that was already chock-a-block with moored boats: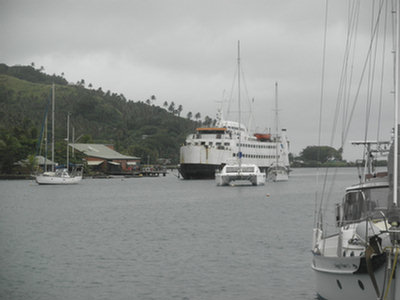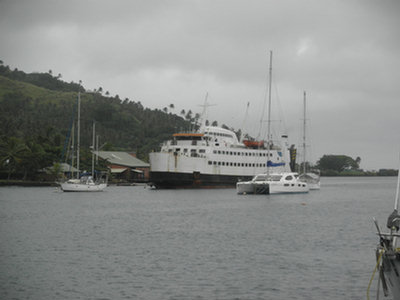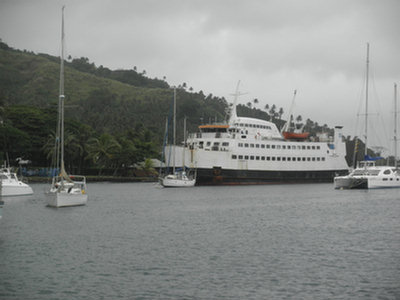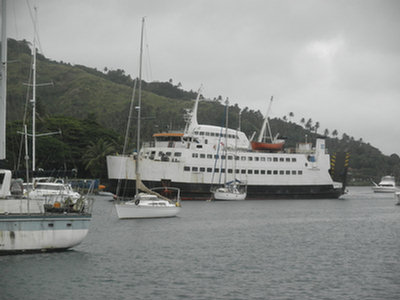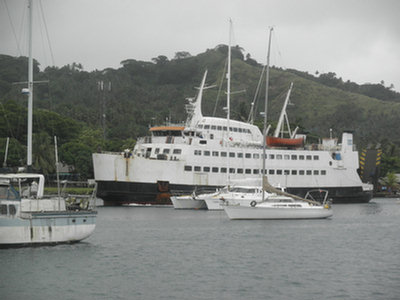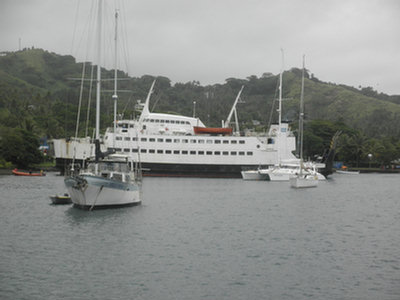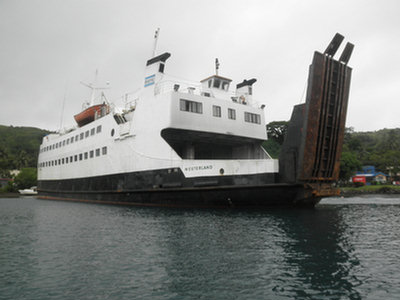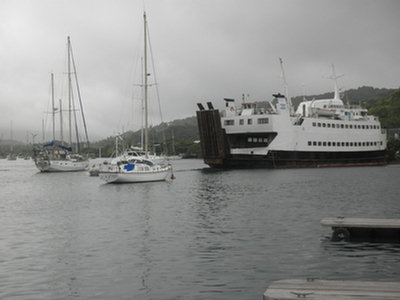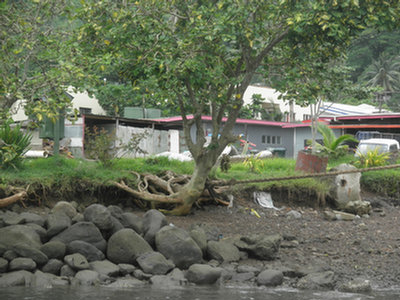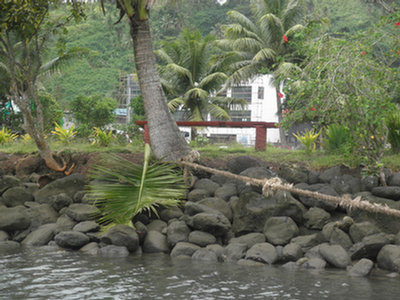 They just ran this big honking boat up on a mud bank, tied a few lines off, and left it. There ought to be a law about that! Unfortunately, Soggy Paws' mooring is fairly close. Our friend Jerry on s/v Challenger, who is right next to us, took these pictures.
Jerry and the other cruisers staying aboard in Savusavu, you might imagine, are furious that this boat would do this, endangering all the boats already there. If this boat gets loose, it will take out ALL the cruising boats.
Fortunately, the storm track is forecast to pass 100 miles to the north of us, and the wind direction should be blowing this beast onto the mud bank at the height of the storm. The forecast for Savusavu is only about 45 knots, starting from the SE and backing around to the N overnight and into tomorrow, and then tailing off.
Meanwhile, we are stuck in LA. Air Pacific had told us yesterday that they would email or call if the flight was going to be cancelled. So, not receiving an email, we were hopeful when we landed in LA. But they have cancelled the flight. They offered all the passengers a voucher for a room at the Airport Hilton for $60/night. I tried to get Dave interested in doing that (hot showers, luxury room, Tv, etc). But we had already been offered a spot on a friend-of-a-friend's sailboat in Redondo Beach, and if we passed it up tonight, we wouldn't be able to stay tomorrow night. Not knowing how long we might be stuck here, it seemed best to get hooked up with the free spot, rather than getting stuck in a $60 a night room. At least we're not on a 2 week vacation!
But it's blowing like stink here tonight in the marina, and it's cold. It's a snug little boat, and quite nice (a Pacific Seacraft 31), but no heat. Our friend, Bill from s/v Solstice stayed long enough to give us the key and show us the ropes aboard, and then took off to catch his flight to Sydney, Australia.