June 10-17 (still catching up)
We weathered a very mild front our last day or so on the moorings at Niue. I was very nervous about it, because the winds were forecast to back all the way around through the west, leaving us totally exposed. However, it was forecast to be very light winds. So we prepped the boat for a quick departure, in case we got unexpected strong westerlies. Fortunately, the forecast was 'golden'. Light winds, a smattering of light rain, virtually no bad swell.
After turning in our car Saturday morning, doing a last load of laundry, and saying heartfelt goodbyes to our friends at Niue Backpackers/Niue Yacht Club, we set sail for 'points west' on Sunday. We were heading for Fiji and Dream Away for Vavau, Tonga. But the course to Fiji goes right past the N end of Vavau, so we were again traveling in company. Again we are amazed at how well matched Soggy Paws and Dream Away were in speed and sailing angles. Without really trying, we stayed within 20 miles of each other the whole trip--within VHF range.
We had a pretty short weather window between passing fronts, with fairly settled E-SE winds. But it was obvious we weren't going to get all the way to Fiji before the next front passed. So when we reached Vavau, we opted to duck into a small island and wait for the front to go by.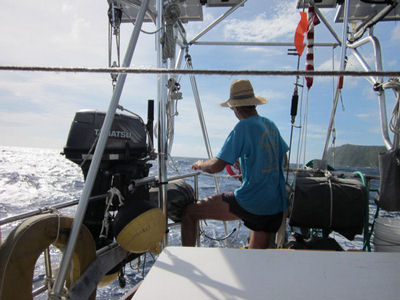 Dave Hauling in the Fish (using YoYo)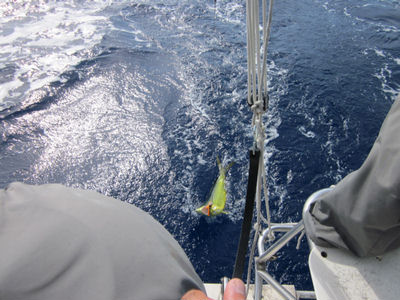 Nice Mahi Mahi!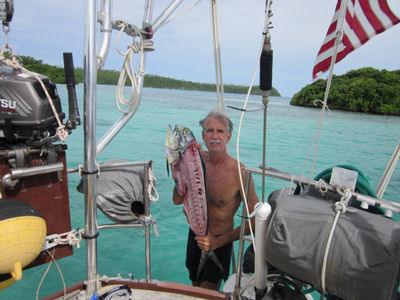 Cleaned and Ready to Eat!
On our way around the north end of Vavau, we trailed our fishing line and caught a nice 4-foot Mahi Mahi. Fresh fish for dinner!!
Our friends on Dream Away headed in for Neiafu to check in to Tonga, and we hope to see them again in Fiji later.
This trip was 250NM, completed in 52 hours, anchor to anchor, for an average speed of 4.8 knots (the wind was pretty light and behind us most of the way). We ran the engine for 5.7 hours, mostly for making water and charging batteries, but also getting in and out of the harbors.
It took a couple of days longer than we expected for the front and it's westerly winds and rain to clear Vavau. But finally on Monday the 18th (Sunday, US time), we left Vavau finally for Fiji.
At 06/19/2012 6:42 PM (utc) our position was 17°26.61'S 178°06.67'W