Well, the weather has continued "mostly fine" (as is reported by the Tonga Met Service). We have made a lot of progress on our repairs.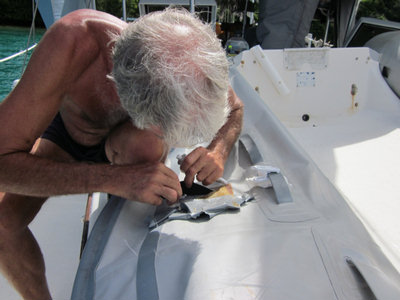 Dave Gluing the Interior Patch with 3M 5200
- The dinghy is fully patched and back in operation
- The 5HP outboard is back together, but still has some problems
- The Monitor Wind Vane has been straightened and re-mounted
- Our port stern rail has been removed and is in to the welder for repairs
- Our order for epoxy and other repair material has finally left NZ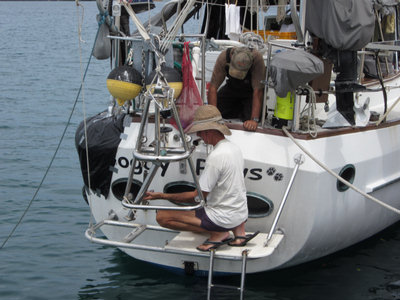 Dave and the Welder Mounting the Monitor Wind Vane
Dave has spent a LOT of time working on the small outboard motor--the one that was on the dinghy during the cyclone, and which got broken in half and sunk. This is a 19 year old Nissan 5HP, which Dave has owned since he bought it used in 1998. It has been a reliable motor, and Dave is very attached to it. When we recovered the pieces from the bottom after the storm, I assumed they'd go in the dumpster. But Larry on the Ark Gallery (whom we were renting the mooring from) said he had a couple of non-working Nissans in his storage unit, and he said he could supply a usable frame, and get his local mechanic to swap the broken pieces and get it working again.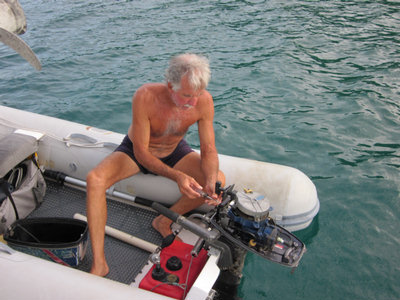 Dave Taking the 5HP Outboard Apart Again
After 2 tries, the motor was returned to us, fully assembled and supposedly working. It did start at least once after we got it back, but the next time we tried to start it, it wouldn't start. So Dave has been fiddling with it in his spare time. It has been on and off the dinghy several times in the last few days--first with fuel issues, and now with electrical/spark issues. Fortunately, we have a nearly a full array of spare electrical parts for this motor, so I am confident Dave will get it working reliably again soon. We returned the loaner dinghy and outboard to the Ark Gallery last weekend, and we're using our 15HP motor on our dinghy in the meantime.
While the weather has stayed nice, we have been taking time to dive and explore the Vavau area. I have also been given a set of waypoints for dive spots around Vavau, and have been working on publishing them so all the cruisers coming this year can take advantage of them. The beginnings of my 'Diving Vavau' site is here: