As our little world has slowly been pieced back together after TC Cyril, and while we are waiting for our shipment of fiberglass supplies from NZ, we have been doing a lot of diving, and exploring of the Vavau area of Tonga.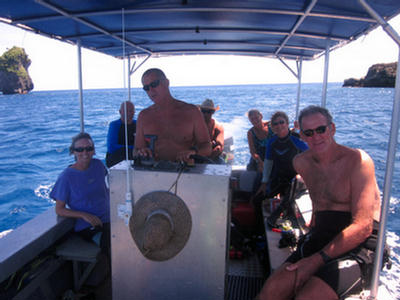 Riki's Small But Fast Dive Boat
We have made a nice connection with a very small dive operation here called Riki Tiki Tours. Riki is a Kiwi who settled here in Tonga about 15 years ago. Right now, in the off-season, Riki is the only dive operation actually open/operating. All the other dive operators are either off-island, or are in "maintenance mode" with equipment down or shipped off to NZ for refurbishment.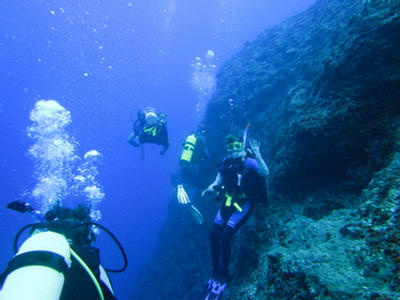 A Typical Vavau Wall Dive
Riki has 2 dive boats--one that accommodates 1-2 people, and another that will squeeze 6 friendly people in. He specializes in taking out the small groups of divers that don't interest the bigger operators, and the 'budget divers'. He has a compressor, and 6-8 sets of dive gear in good shape. Dave bargained with Riki for a good off-season price, if we can fill his 6-person boat. So we have been going out with Shango and Sea Flyer on Riki's boat for a 2-tank dive once a week. We have gotten a chance to see most of the popular dive sites near Neiafu with Riki.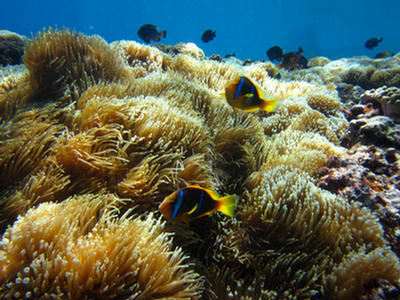 An Anemone Garden on Top of a Coral Bommie
Here's Riki's website:
http://www.rikitikitonga.com
In addition, on the weekends, when the weather is good, we have been going out exploring on our own, and doing a little diving out of our dinghies. We have so far been to anchorages at Mala (#6), Mounu (#40), Euakafa (#32), and Taunga (#23). They are all very pretty, but most have the typical problem in Tonga that the bottom is coral or sheet-rock and/or the anchorage is exposed (settled weather only).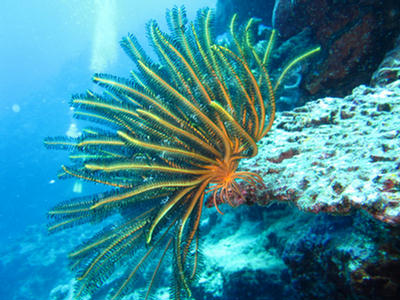 A Crinoid in Full Bloom
(it is actually an animal, not a plant)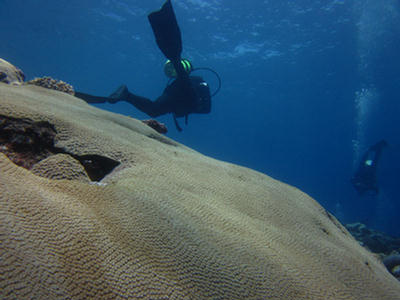 Huge Live Coral Heads
After all the dead coral in Fr Poly, this is nice to see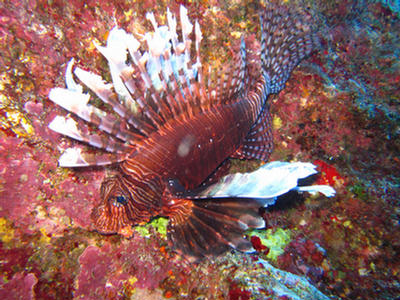 A Lionfish Out Swimming Around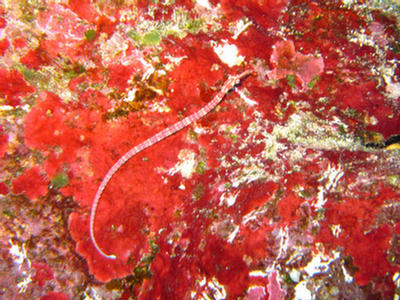 Dave Caught This Tiny Red Pipefish in a Cave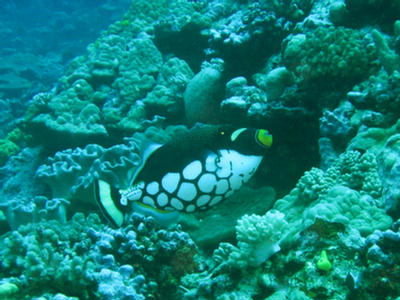 A Clown Triggerfish



I hope to add comments from our personal experience in my growing Tonga Compendium about our experiences at these anchorages. (see http://svsoggypaws.com/files/ for the latest version of the Tonga Compendium).
I am continuing to refine and add our personal experiences to the Vavau Dive Sites information, here:
http://www.svsoggypaws.com/tongadive/
This is still a major work in progress--we are adding our own dive sites, and photos, as well as spiffing up the entire package (ie Google Maps).

The weather is nice now, but the long range forecast indicates maybe one more bout of unsettled weather next weekend, as the Madden Julian Oscillation ripples over the Tonga area again. (The weather gurus say the MJO was responsible for TC Cyril's sudden appearance about a month ago). We are holding off putting our sails back on until after that goes by. Until then, we are enjoying ourselves, but as a motor yacht.

Dinghy motor update: Dave is still wrestling with his beloved 5hp Nissan motor. He thought he had it finally fixed--it ran perfectly one evening for a trip across Neiafu Harbor for dinner, but then wouldn't start for the trip back. We ended up rowing back across the harbor in the moonlight. Fortunately the wind was only about 10 knots and not against us. There is an intermittant electrical issue that he just hasn't been able to run down. It either starts immediately and runs great, or it won't--no spark at all.
At 03/11/2012 7:52 PM (utc) our position was 18°45.17'S 174°02.28'W
http://svsoggypaws.com/currentposition.htm