Rain, rain, rain, rain...that's the short story.
The long story is that the South Pacific Convergence Zone has been hanging over us for over a week, and looks like it is hanging out for another week.
The South Pacific Convergence Zone is an area where the NE winds from the northern hemisphere meet the SE winds from the Southern Hemisphere, and cause an area of 'convergence' that generally means clouds and rain. The SPCZ is quasi-stationary, but does move north and south a little bit, usually seasonally. Unfortunately, right now it has parked right on top of Tonga.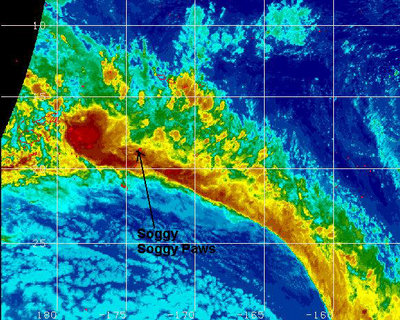 Yesterday's Satellite Picture
This is actually the weather we expected this time of year, but we were spoiled our first week back with just beautiful sunny weather. Now we're not spoiled. Starting to go a little crazy with the constant rain. Hoping it will continue to drift eastward and clear out some. And hoping that none of the marching string of low pressure areas develop into anything worse than a little more rain.
The Surface Map from Fiji's Weather Service
The winds have been an unusual direction... N-NW... for about a week. While the SPCZ hangs over us, the forecast is really unreliable. So much depends on where it wiggles.
Even with the rain, we'd like to go out cruising a bit, but it's hard to tell what the conditions are going to be--to pick a good anchorage for NW winds (but maybe switching to E unexpectedly).
So, for now, we are sitting in Neiafu harbor enjoying internet, and socializing with the people who are here. Only about 5 boats we know of are still in this area--the other ~300 boats who passed through here in the fall have long ago left for Fiji, Australia, or New Zealand.
Yesterday, we attended an Aussie Day celebration at the Balcony Restaurant--about a dozen ex-pat Aussies were there in mufti, and about another dozen non-Aussies who were designated Temporary Aussies for the celebration. We drank Fosters beer. practiced our "G'Day" and had a good time.