One of the best things about being back in the Melbourne area is the chance to go sailboat racing with my old racing friends. This time, everything came together so I got a chance to race with on my old boat, with (partially) my old crew, and against some of the skippers I used to race against.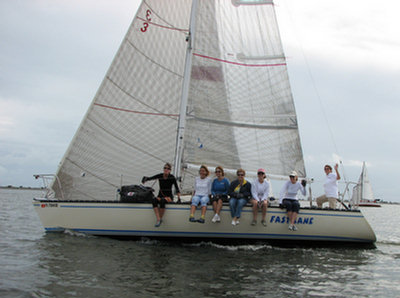 Fast Lane and Crew Waiting for the Start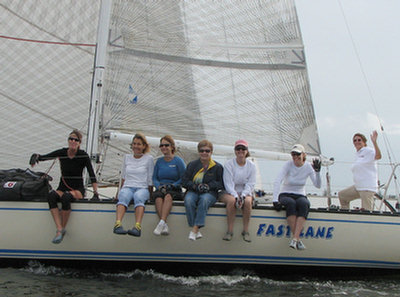 Cheryl, Lilly, Marlene, Amy, Winnie, Nancy, and Me
We only had one crew member aboard who is currently regularly racing (Cheryl, on Foredeck), and we had 2 aboard who had never been racing before (Lilly and Nancy). The rest of us were really rusty. So, no, we didn't win. But we got the spinnaker up and down, gybe it a few times, didn't embarrass ourselves, and had a GREAT time.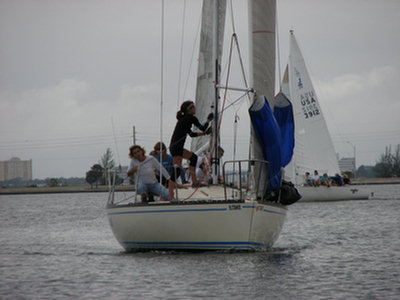 Spinnaker Up!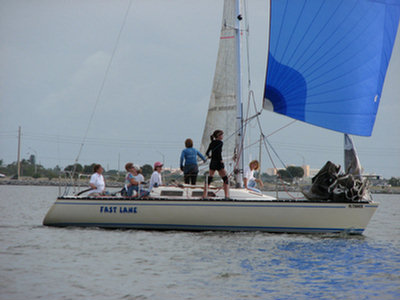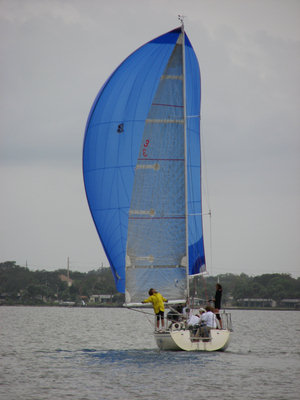 The fleet has changed a lot since I last raced... when I left, there were 3-4 Lindenberg 28's racing, so it was almost "match racing". Since then, those skippers have swapped out their L28's for much simpler (fewer crew required) J/24's. There is now a fairly large J/24 fleet in Melbourne.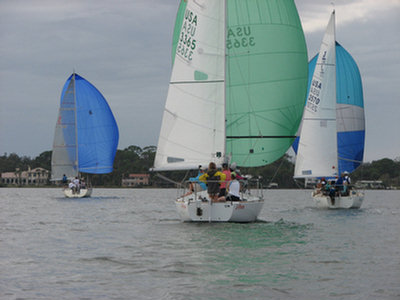 We're In the Lead, But Not Winning
The neophyte "I can beat them with one hand tied behind my back" skippers have all 'grown up', and they beat me today handily. Glad to see the Women's Racing in the Melbourne area still going strong.