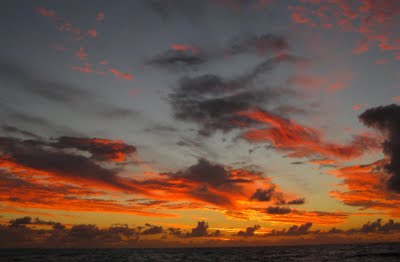 Our Last Sunset of the Easter Island Trip
We are currently 32 miles out from Easter Island. We could just see the tip of the island at about 50 miles out.
Today was a very nice day--moderate winds and seas, sunshine, and just smooth sailing. We tried to hold off the 'horse heading for the barn syndrome' as long as we could, but finally caught it in the late afternoon, as we were drifting along at 4 knots in only 8 knots of wind. So as soon as we got through with dinner (seared tuna and coleslaw), we cranked up Mr. Perkins, to get us in these last few miles a little quicker.
After much discussing about how wise it was to go in and anchor after dark, we have decided to make for Anakena Cove, on the north coast. Our friends on Visions of Johanna anchored there this afternoon. They gave us a waypoint, scouted an anchoring spot for us, and promised to get up at 1 am to turn their lights on and help guide us in. There is almost no wind and no seas, so it should be a pretty easy anchoring exercise.
We will get a few hours of sleep, have a nice breakfast on Visions, and then head for Hanga Roa, 10 miles away, to check in. This will let us see the coast (and the famous 'moai' along the coast) during the daylight.
The sunset tonight was spectactular. The air here in the higher latitudes is much clearer than along the equator, where we've been for the last 2 years. We took yet another sunset picture for our collection.
-----
At 3/16/2010 2:05 AM (utc) our position was 26°34.96'S 109°07.94'W