Chilean Officials
When we arrived at Hanga Roa (the town on Easter Island), we called 'Pascua Radio' and reported in. They told us to expect officials to come out to the boat at 3pm.
It was a nice group, very courteous and very professional. The agricultural inspector confiscated my remaining onions and garlic from the hanging basket in the galley. On another boat they confiscated their Panamanian honey. Chile is very protective of their agriculture, and each of these items is a possible threat to their industry.
Once cleared in, we went ashore to meet up with Mike and Sue from s/v Infini. They gave us the 'nickel tour' of town, and we went promptly to the internet cafe. I only had 250 emails waiting for me!!
We celebrated our arrival at Easter Island on Infini with a bottle of champagne.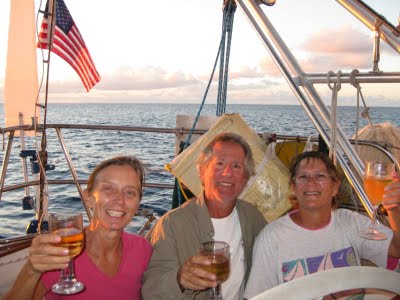 It turned into an all-anchorage party when the boat next door rowed by.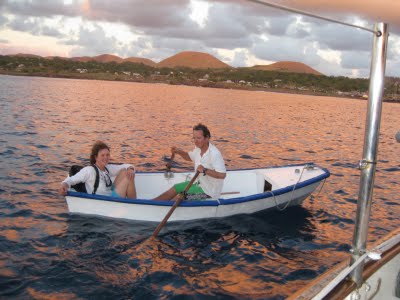 Andy and Reanna sailed in their smallish sailboat from Chile via Juan Fernandez (an island partway between mainland Chile and Easter Island). They were there when the tsunami hit, and barely got away with their boat intact. It happened at night and apparently the wave went very high into the town. They said there were people, houses, and cows floating by screaming in the dark. They picked up everyone they could, and then donated their dinghy and small outboard motor so the people could get back to their island. Andy did not want to take his boat in closer for fear of getting caught in the next wave. Wow, what a story!
We are happy that our Galapagos tsunami story is much less exciting.