We have finally started putting the first coat of epoxy on the bottom today. It took George's guys 2 days to get the waterline right (to Dave's satisfaction), and then another day to finish prepping around the new waterline.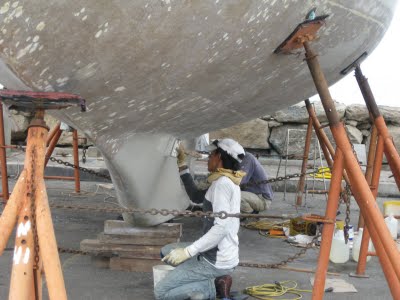 It was raining this morning when we woke up, and we were kinda bummed. But it was just the typical Ecuadorean mist, and it cleared up by mid-morning. They started laying the first coat of epoxy on around noon. It doesn't look like we'll get a second coat on today, but at least we've begun!
While the Stewart Yacht Services guys have been working on the bottom, we've been doing other things, including putting the new name on.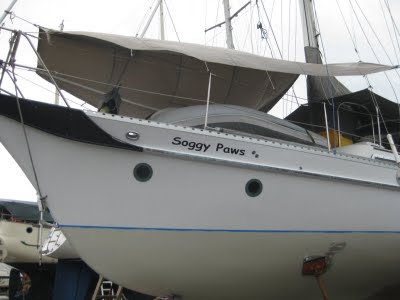 Notice our Paws!!
We used
SpeedySigns.com
to design, order, and ship our custom vinyl lettering. I don't know if it is the cheapest place on the internet, but their interactive lettering tool sure was easy to use, and it was all waiting for us when we arrived in the States. Putting on the vinyl lettering is a cinch, too.
We have finally finished unpacking all the stuff we brought back with us.
Dave has already mounted the new swim ladder with brackets we brought back. And he's started working on putting the engine back together.
And then there's the socializing--several new boats are in the marina, so we've been trading boat visits and discussing boat projects and Ecuadorean travel. Eight of us got together and shared $2 taxi rides over to Pizza Express in Salinas for two-fer pizzas and beer.