I am way behind on my blog. I do plan to add some blog posts on our French Canal Boat trip. But if I wait til I have time for that before I post anything else, I'll be even further behind.
We flew back from Ramstein Air Force Base on Tuesday night on a C-17 cargo plane. It has a big cargo hold with bench seats along each side. We were the only cargo, though. So we were able to lay a blanket on the floor of the cargo hold and get some sleep. But it was cold and noisy--not as nice as the C-5 we flew over on, but still got us there.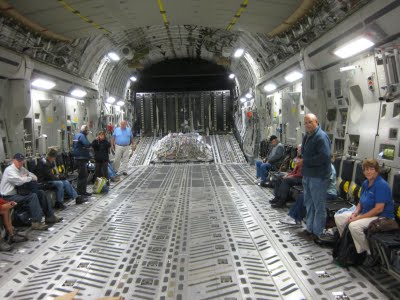 While we were waiting in Ramstein, we saw a whole planeload of troops heading for Kuwait, presumably to be deployed in Iraq or Afganistan. Our hearts are with all those fine young people.
On Weds night we stopped off in Jacksonville to visit cruising friend Tom Service, who's anchored out off Julington Creek Marina.
Yesterday, we thankfully pulled into Satellite Beach.
This afternoon we set off again for Eustis, FL, where we will be attending Dave's high school reunion. He is excited about seeing old friends after so long.
On Sunday we have a golf game scheduled with a couple of Dave's Naval Academy friends.
Next week Dave has Jury Duty in Clearwater, but he's going to drop me off in Satellite Beach before he returns to Clearwater to do his civic duty. We are hoping his commitment is short!