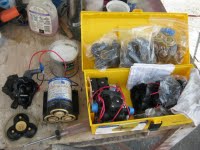 While Soggy Paws continues to dry out, Dave has been busying working down his 'high priority before crossing the Pacific' and 'must do while hauled out' projects lists.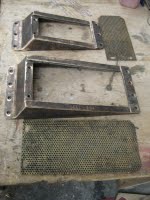 He spent a couple of days polishing the prop & other bronze underwater fittings, and installing a new zinc.
He has rebuilt several of our pumps... our galley macerator had gotten erratic, the forward head macerator wouldn't work, and several spare macerators needed checking. One extra macerator motor needed rewinding, so he took it into town to a motor guy, and got it fixed up for $12. Then he installed new bearings, shafts and seals in our two spare engine raw water pumps so they would be ready for quick replacement if needed.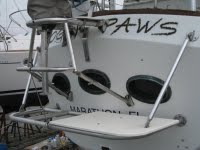 He took our Monitor Wind Vane off, made some adjustments to the gear mesh play because when we finally got to use it on our trip from Costa Rica, we found the gears were way too loose. Then of course it had to be all shined up.
While he was at it, he also raised the swim platform about 10". It was too low and kept slamming right next to our head in the water, when we were trying to sleep in rolly Pacific anchorages.
And we've got new Boat Name and Hailing Port vinyl lettering on order back in the States with
Speedy Signs
.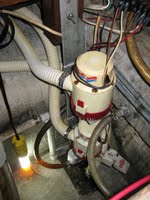 He re-plumbed our 2 3700 GPH electric bilge pumps with new Tigerflex smooth bore hose. Now these emergency pumps discharge into the cockpit. While doing so, he found one of the discharge hoses was completely blocked with oyster-like growth. Hmmm... that's probably why it wasn't pumping water out! Then he replumbed our big manual pump with the same hose.
The details of his bilge pump arrangement are on our
Soggy Paws Plumbing
page, under Bilge Pump Engineering if you are interested.
The past couple of days he has been equalizing the batteries and tracing down a voltage drop on one bank. And so it goes. Next is a week of engine work.
Soggy Paws, Bare and Drying Out