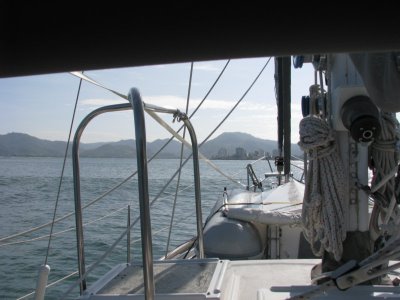 We made it to the 'Waiting Room' waypoint with plenty of time to spare. Notice the swell passing Soggy Paws just off our bow.
Conditions had moderated as the night wore on, so it was a very pleasant morning. We did quite a bit of motoring around while waiting for the pilot to show up, and saw pretty much steady depths of about 25' all around the waypoint.
We watched the fishermen setting nets while we waited for our pilot to show up.
We used these waypoints, from
Puerto Amistad's website
:
WP0 00º35.780S 080º28.300W Virtual Sea Buoy
WP1 00º35.805S 080º26.832W "Waiting Room" Anchorage
We also took the chartlet they had on their website and imported it into Sea Clear and geo-referenced it, as a backup in case we had to take ourselves in.
Fortunately, promptly at 8:40, Carlos from Puerto Amistad showed up in a lancha. He safely piloted us over the bar and around some pretty awesome rollers. It would have been pretty scary taking ourselves in. The $30 we paid to Carlos to guide us in was money well spent, we think.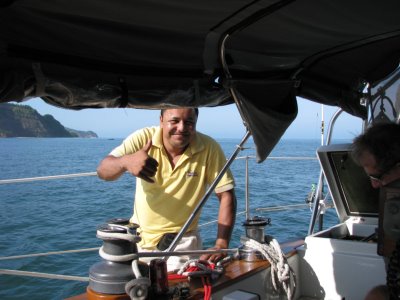 Carlos, Our Pilot, Comes Aboard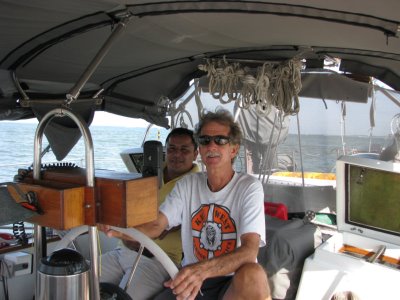 Dave and Carlos taking Soggy Paws In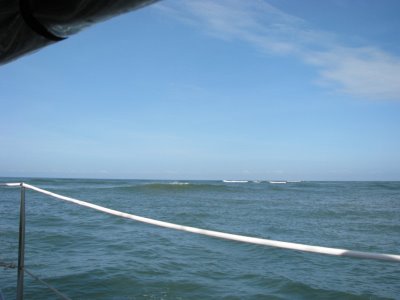 Breaking Waves!
We were never actually in breakers, but they were close abeam as we went in (much closer than this picture shows). We saw a minimum depth of about 8' (at high tide a few days after the full moon).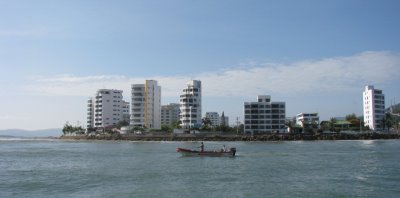 Vacation Condos on the Point


Inside the Bay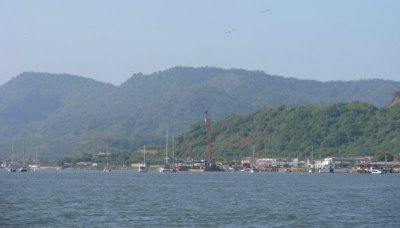 Approaching the Anchorage off Puerto Amistad
Carlos hustled off as soon as we were on the mooring, to round up the officials. The current procedure is for Puerto Amistad to call them and arrange for a taxi to bring them to the boat. And then Carlos ferries them out to the boat. It took a couple of hours for them to show up, but by about 4pm, we were done. Here's what we paid for the entry and check-in:
$30 Pilot Fee
$5 Health Inspection
$20 Immigration
$39 Port Captain
$30 Taxi fare (we split the $60 fare with another boat that was leaving)
Our Immigration is good for 90 days. The boat is supposedly good 'indefinitely'. Unlike the problems reported in Salinas/Puerto Lucia, where the Port Captain has been hassling boats about staying too long. The 90 day immigration won't be a problem for us because we plan several trips out of Ecuador in the next 9 months.