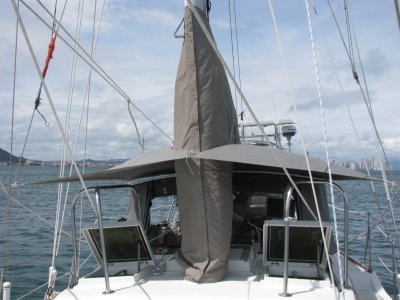 Sitting here waiting for weather, with the sewing machine newly tuned up, has been a great opportunity to work on sewing projects.
The latest project is 'eyebrows' for the dodger.
We have 2 big awnings that cover the whole boat. One goes from the mast to the forestay, and the other goes from the mast back to the arch in the back. However, we rarely put them up because (a) it's a big production to haul out and put up and (b) we never know when we'll get slammed with a thunderstorm and gusts to 40 knots. But having a little sun protection, especially just in front of the dodger and over the main cabin area, would be a good thing.
So we sketched up a design for what Dave calls 'eyebrows'. A relatively short, flat sunbrella awning that we can leave up in fairly substantial winds. I made it in 2 pieces (one strip for either side of the mast). They fasten to the hard dodger top on the outboard side (just grommets and line), and fasten together under the boom at the back, and go forward to shrouds outboard of the mast. They turned out pretty good and we're congratulating ourselves on a good design... something that's easy to put up and leave up in most weather, and gives us some sun protection and some rain protetion.