We left Balboa on Saturday and have been hanging out at Isla Pedro Gonzales in the Las Perlas islands of Panama.
When we got here on Saturday, in this normally quiet beautiful anchorage, we anchored in the middle of a 'weigh in' and sponsors party associated with a fishing tournament. We found 3 sailboats and literally 50 fishing yachts in the anchorage. There was a canopy with tables and chairs and a band on the beach. Lanchas were running back and forth carrying people into the party. They didn't invite us.
The cruisers gathered on another cruising boat, RDreamz, to watch the fun. Fortunately Phil and Leslie on Carina had been thru one of these before, and said that most of the boats do not spend the night. True to form, all but about 6 boats left soon after dark.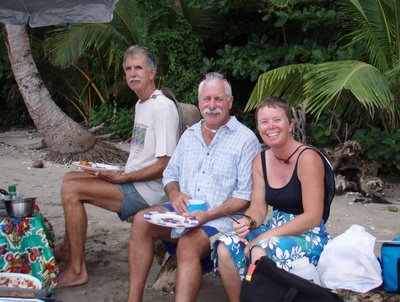 We've been doing 'boat projects' and socializing with the other cruising boats. A couple of boats have just arrived from western Panama (and before that, Costa Rica).
So we've had a couple of happy hours, a trash burn on the beach, and a potluck on the beach.
Above: Philip & Leslie from s/v Carina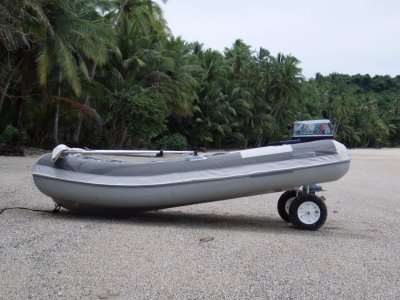 Dave got our dinghy wheels mounted. They are huge but effective. Thanks to Jim Yates for lugging them down in his luggage!
You need them here because the 15-foot tide create very looooong beaches for dragging the dinghy up and down.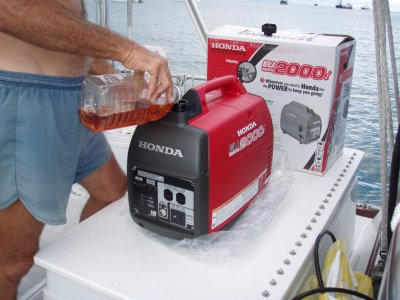 We have commissioned our new Honda EU2000i generator. It is a quiet, light, but very effective gasoline generator. We were able to buy one here in Panama through Marine Warehouse for $1100 (you can buy them in the States for about $875 delivered). It is the size and weight of our sewing machine, so it is easy to move around, and store it down below when we're on the move.
Dave made a plug that goes from the generator 110v outlet to our normal 30amp 110v shore power plug. Our Link 2000 has a way to limit the load that the battery charger draws (Power Sharing = 10amps) so we don't overload the generator. With this on, it starts out with a 60amp DC charge and then does the normal step down as the batteries come up.
Though Dave is an avowed solar power nut, we have found that trying to live on 100% solar power during rainy season near the equator isn't cutting it. We have 2-3 day stretches where we aren't getting enough sun to keep up. So we will use the generator to fill in the gaps and save wear on the engine. So far we're really liking it.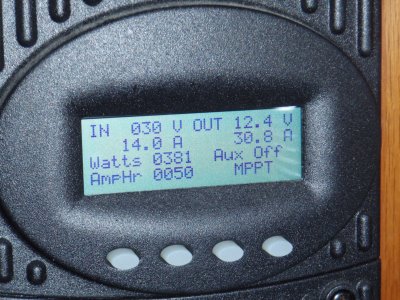 Our Outback solar controller showing 30amps going into the battery, late morning on a sunny day.
We ran a new halyard for our Code Zero sail yesterday, and Dave wanted to route it inside the mast on the way down. So he spent yesterday cutting a hole in the mast to let it out.
We've spent some time swapping cruising info with the boats headed into the Caribbean, and info on Panama and Golfito, Coasta Rica for us. Both Carina and RDreamz are headed into the Pacific this season, so we've also spent some time swapping info with them.
I have also been working on understanding the Pacific weather products, so we can figure out weather windows. Unfortunately, it sounds like getting to Costa Rica from here is going to be another nearly upwind and maybe upcurrent slog for 400 miles. Fortunately it's light air season, and we don't have to do it all in one jump.