See our Antigua photos:
Antigua Guatemala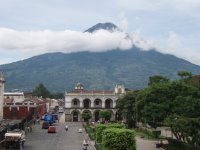 First, getting there...We purchased 50Q ($7) tickets on the Litegua Express bus from the Rio Dulce. This is not a 'chicken bus'... we had reserved seats and (theoretically) air conditioning. It is basically a Greyhound-level bus, clean and well maintained.
The trip to Guatemala City is supposed to take about 4 hours, but ours lasted more like 5 1/2... We made reasonably good time until just outside Guatemala City, where there was a horrendous traffic jam (I am told this is a normal situation).
The 'crow flies' distance between the Rio and Guat City is only about 120 miles. But it is a 2-lane road going through mountainous region, so the crow flies like a drunken sailor, and the top driving speed is more like 45mph instead of 60.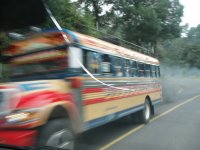 Most of Guatemala's goods come and go by sea, and the road to Guatemala City is also the main road from the sea port of Puerto Barrios. So there is lots of very heavily laden truck traffic on this winding hilly 2-lane road. Bottom line, it was a long but interesting trip through the countryside. Left, a "chicken bus".
The second leg of our trip to Antigua was via chartered shuttle (minivan) from Guat City to Antigua. The van was waiting for us when the bus arrived, so we hopped right on and continued on to Antigua. This trip also cost 50Q per person. It only took us an hour to get to Antigua. The van driver dropped us right at our hotel. (This was pretty important because I totally overpacked, and we had to lug my big heavy dufflebag everywhere (not on rollers, unfortunately)).
We had scoped out hotels in Antigua from the Lonely Planet guide and had 4-5 picked out that were in the upper end of the 'budget' category. We had the van drop us at the one that sounded the best (Posada Juma Ocag). Unfortunately they only had 1 room available (we were looking for 2). So Dave and Ron left Dorothy and I in their tiny lobby with the luggage and went out looking at the other places. They finally found a hotel (one not on our list) that had 2 rooms available (Posada Don Quixote). Ron and Dorothy insisted on a room with a private bath. Dave wanted to do the 'shared bath' option (it's cheaper).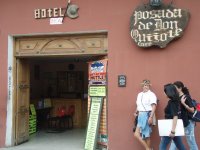 The Don Quixote was a typical Antigua budget hotel... an old house that had been turned into a small hotel with 6 or 7 rooms. It was OK. Our room faced the street, which was a little noisy during the day but quieted down at night. We had a big room and our bathroom was not far down the hall and was clean and had hot water. The sheets were clean but low-end, and the pillows were lumpy. Dave liked the bed. But, the cost was only $16 per night.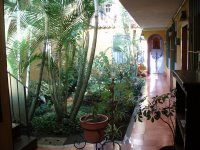 The next 2 nights we were able to get rooms in the Juma Ocag--we really liked this place. The Juma Ocag rooms were all double with a private bath, but otherwise similar to the Don Quixote. However, the grounds of the Juma Ocag were more charming, and it was closer to the center of town. Our rooms there cost only $15/night. Dave and I came back for one more night a few days later, when Ron and Dorothy had to fly back to the states. We'd highly recommend this place for budget travelers, but get there relatively early in the day, as they seemed to stay full every night.
We booked a Volcano hike for the next day. (more about the hike in another post).
We really liked Antigua and in fact spent several more days there than we originally planned. A short history: Antigua was the capital of Guatemala from the mid 1500's to 1773. It is in a valley in the 'Highlands' of Guatemala, surrounded by mountains, several of which are still active volcanos. The volcanos are pretty well-behaved, but earthquakes are fairly common. A big earthquake in the 1773 caused so much damage that the King of Spain decreed that the seat of government move off the fault line to the current site of Guatemala City. He made the church move and forbade any commerce to continue there, so apparently everyone packed up everything that was movable and moved to the new city, leaving behind the ruins of the old city. Henceforth the old city was known as Antigua (old) Guatemala.
But not quite everyone left. Squatters moved in and occupied the ruins for a long time. It gradually became fashionable for the upper class Guatemalans to weekend in Antigua. It has long been known as a tourist destination, and "the" place to go do Spanish language study. With the tourist money has come an unusual interest (for Guatemala) in keeping the city clean and organized. They banned the market that normally exists in the square, to a new place on the edge of the town... thereby making the square beautiful and clean, and diverting commerical traffic away from the square area.
Anyway, we loved Antigua and would go back in a heartbeat. If you want to do some serious "immersion" Spanish language study, this is one good place to do it. You can get here from Ft. Lauderdale (Spirit Airlines and several others) for a few hundred dollars, and then study Spanish 4-6 hours per day and stay with a local family for about $150/week. And from Antigua you can get all over Guatemala for very little money.
See more Antigua photos here:
Antigua Guatemala