On Tuesday we finally broke free of Lighthouse Reef and headed for the 'mainland reef'. We went in the South Water Cay cut, about 25 miles southwest of where we were at Lighthouse. We trolled a fishing line the whole trip, and specifically followed the depth contour down Lighthouse and all the way down behind Glover's Reef, trying to catch dinner.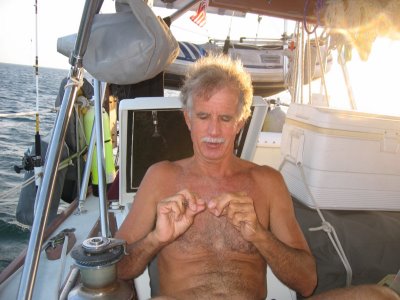 Dave Getting Ready to Fish
Dave got several strikes, and boated 2 barracuda before finally catching a 'Little Tunny'. By the time he got it aboard, some barracuda had eaten the back half of the fish. But there was still enough to cut 2 nice fat steaks off. Dave wasn't sure how edible this tuna-like fish was. But we marinated it a little and baked it and it was quite delicious.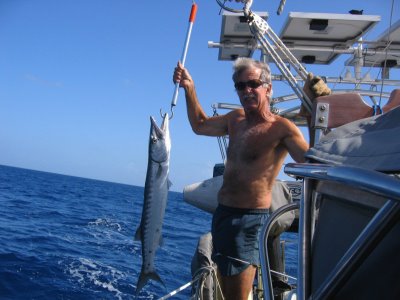 Dave with a Barracuda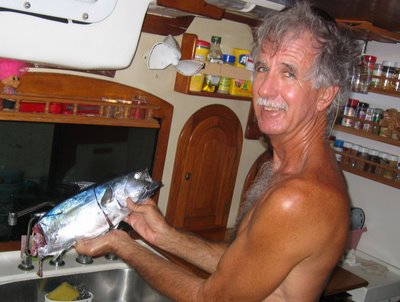 Our Poor Little Half-Tunny
We anchored for the night at South Water Cay, a cute little island on the edge of the mainland fringing reef. Actually, anchored isn't quite the correct term. We picked up a mooring. Dave's friend Cliff in Belize City, who operates a crewed charter, told us about the brand new moorings that the TMM (local maritime business association) had put in, primarily to keep the bareboaters out of trouble and from damaging the reef. He told us to go ahead and use them if there were moorings open.
We did our usual snorkel check of the "anchor" and a tour of the underwater area surrouding the boat. Though Dave was hot to go in to the Cay, was happy to have a happy hour aboard and check out South Water Cay the next day. The following day's forecast was for a tropical wave to pass through, squally and overcast, and so we thought we'd spend the day there.
Yesterday we awoke to the promised squally weather and had a nice time sleeping in after our grueling passage the day before. We had a nice big breakfast, answered some email, and about 11am, wandered in to South Water Cay. We wanted to have a look around, to ask about filling dive tanks, and check on the availability of dinner. We completed all of this, and a circumnavigation of the entire island, in about 15 minutes! The island is tiny, there are only 3 places to eat (all very expensive) and 1 dive operation (also expensive). Dinners ranged from $22-35 US, for basically chicken or pork chops. Dive tank fills were $11 US each. We passed on all of them.
As the sun came out and we'd explored the extent of South Water Cay by noon, we decided to go ahead and move to another spot. We dropped the mooring and were retracing our path out of the anchorage area when I ran us promptly aground. Apparently I wasn't doing such a great job of retracing our entry. We immediately tried backing off, but quit when that didn't look like it was working. Dave hopped in the water to survey the situation. We weren't very hard aground and there was deep water behind and not ahead. So we backed again to no avail. Dave finally put the dinghy in the water, and took the main halyard off to the side, while I backed, and we slid right off. (This worked with just the 5hp motor and Dave holding the halyard!)
After that we made our way into Spruce Cay with no further adventure. Spruce has no 'spruce'. It is a tiny mangrove island with a very small deep lagoon surrounded by a fringing reef. There was reportedly one small spot where you could drop your anchor in 12', and the rest of the area was either 1' or 25-50'. We found it with no problem and got firmly anchored. We went out for a snorkel but it was pretty windy and the surrounding area was rough (and a little shallow to be of interest).
We were originally going to Placencia today (a small town on the mainland), but the weather is supposed to be perfect today for reef exploration (sunny and light wind), so we may stay out on the reef another day, and go to Placencia tomorrow.