One of the reasons we were keen to stop at Three Islands is a report of a Japanese sub-tender, and mini-submarine next to it, sunk right in the anchorage. We knew its approximate location from other cruisers' information, and we could see a white buoy marking something near where we thought it was. But being good cruisers, we asked Clem if we could dive "his" wreck, and in return, we got one of his guys to take us to the wreck.
It was a good thing we had a guide... the visible buoy marked the ship, but it was the sub we really wanted to see. Visibility wasn't great and it was not obvious where the submarine was in relation to the ship. We had swum out from the ship in the direction we thought it was and didn't find it. Finally we surfaced and asked the guide. It turned out to be just a bit farther north than we thought, alongside the subtender.
Our pictures aren't great... the visibility was so poor that we couldn't back up and take a whole picture of the sub.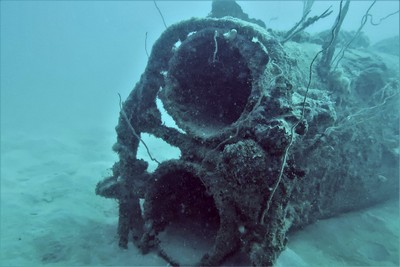 The Bow of the Sub Showing 2 Empty Torpedo Tubes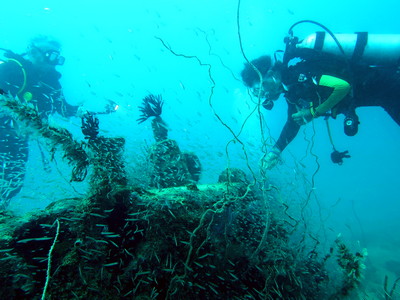 The Conning Tower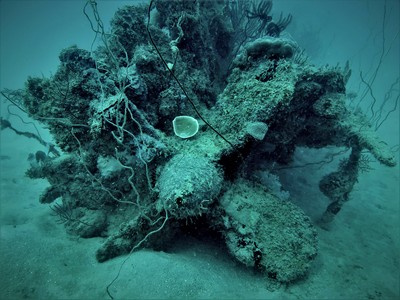 The Stern View Showing Counter-Rotating Propellers
We didn't have a lot of details about this ship and sub when we were there, but later found details from the Pacific Wrecks website, here:
https://pacificwrecks.com/subs/HA-52.html
Also, here are some pictures of what it's supposed to look like when not covered with 60 years of sea growth.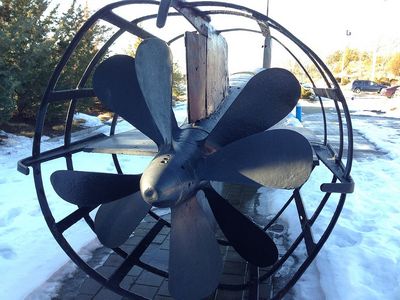 Counter-Rotating Propellers on Japanese Mini-Sub HA-8 in a Museum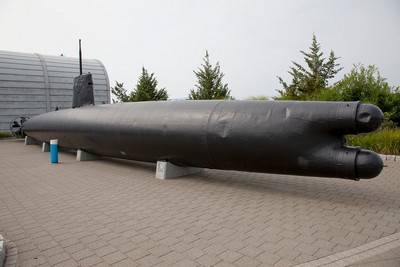 Full View of Japanese Mini-Sub HA-8 in a Museum
Our friends Craig and Pam on s/v Berzerker filmed the dive with their Go-Pro, and here's a short video Craig posted on YouTube.
Mini-Sub Dive at Dunung Island
Having been out in the boonies for over 3 weeks, we were all dying for a meal ashore--one that we didn't have to cook. We talked with Clem's wife Sophie about having her make a meal for our group. She said she could make us a pizza--if we could provide most of the ingredients. We managed to dig up some olives, tomato sauce, and Parmesan cheese from the depleted stores on our 4 boats. Sophie did a passable job of making the pizzas, and we enjoyed our meal on our last night ashore.
Pizza!
There are a few more Japanese shipwrecks around Three Islands, but we were keen to get going--both to get to the stores in Kavieng, and because the big picture...getting all the way to Vanuatu before the SE Trades set in...required us to keep moving.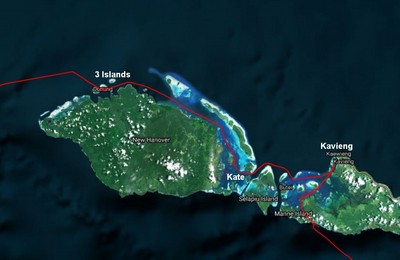 Chartlet Showing Our Route from 3 Islands to Kavieng
But, not so fast--we had one more stop to make in New Hanover. On the eastern end, next to the small island of Anelaua, is a Japanese airplane in about 25 ft of water. We had a waypoint for the plane, but no information about an anchorage there. So we set out as a group on a daysail, hoping to find anchorable depths near the plane. The plan was to anchor overnight, do a quick dive on the plan in the morning, and get all the way to Kavieng on the same day.
We had a fairly pleasant sail east along the north coast of New Hanover. The PNG charts are not very good, but we had accurate satellite charts on OpenCPN, and so navigation was pretty easy. It took us awhile to survey the anchoring area and find reasonable depths and swinging room to fit all 4 boats. We again left the shallowest spot for our friends on Berzerker who had no anchor windlass.
After anchoring, a pile of teenagers gathered on shore waving at us, so we went in in the dinghy to say hello and ask about the airplane. It turns out that there's a high school just inland from our anchoring spot. The kids were friendly and enjoyed practicing their english on us.
The airplane was just around the corner of the island from our anchor spot. Dave and I went to find it and make sure we knew where it was, for a quick dive in the morning.
Come morning, all 4 boats launched dinghies to go see the wreck. Some diving, some snorkling. Visibility was pretty good, and it was in shallow enough water that even the snorklers could explore the wreck. After 10-15 minutes taking pictures, everyone had seen enough, so we returned to our boats.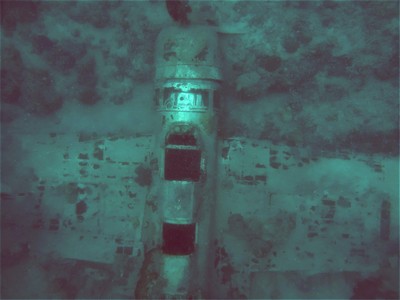 The B5-N-2 "Kate" We found in New Hanover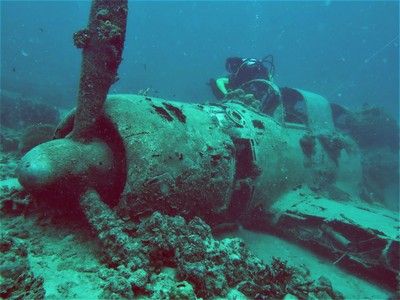 By 10 am, we were all back aboard and hauling anchor to sail to Kavieng.
Anchorage waypoint:
02 34.9980 S / 150 29.3630 E 48 ft sand.