We have wanted to visit Thailand forever, and it is especially easy to do while already in SE Asia. Dave also had a hankering to see Angkor Wat, in nearby Cambodia. Plus, our Philippines Visa on Arrival is only good for 29 days, and then we need to renew or fly out. Renewals these days cost $75 USD per person. So we figured we'd fly somewhere, using that $75 USD as a subsidy for our trip.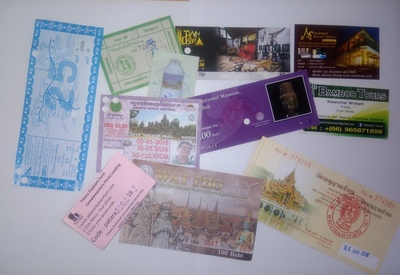 Getting Ready for Another Adventure!
Before we left the US, we booked a round trip flight on Air Asia from Davao to Kuala Lumpur, Malaysia. Having an outbound ticket from the Philippines when we flew in from the US also maded airport check-in and arrival, on a one-way ticket from the U.S., much easier. Because SE Asia is used to backpackers and yachties traveling through on a one-way ticket, going from country to country, it's much easier to talk your way on the plane from Kuala Lumpur than it is from LAX.
I spent a week in December making up a rough plan for our trip. I emailed the plan to several friends who had been to both places and asked for input. The major addition to our initial plan was to plan to go to Chiang Rai (a 3 hour bus ride from Chiang Mai) and spend at least a few days there. So, here is what we planned, and we were pretty much able to execute this plan. January is peak tourist season, so I felt like I had to pre-book the major things, to make sure we got to where we wanted to go, and had a place to stay when we got there.
Jan 8 - Fly Davao to Kuala Lumpur
Jan 8 - Overnight at Tune Hotel KL Airport
Jan 9 - Fly KL to Siem Reip (v early morning flight)
Jan 9-11 Explore Siem Reip / Angkor Wat
Jan 12 Siem Reip to Bangkok ($30/8hrs by bus $60/2hrs fly)
Jan 13-14 Bangkok
Jan 15 Daytrip by van to Ayutthaya
Jan 16 Bangkok to Chang Mai day train (all day) or 1 hr flight
Jan 17 Rest/get oriented in Chang Mai
Jan 18-26 Chang Mai and vicinity / touring, etc
Jan 27 Chang Mai to KL, overnight at Tune Hotel KL Airport
Jan 28 Fly KL to Davao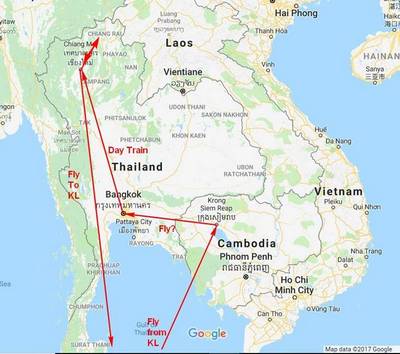 Our Planned Whirlwind Trip to Cambodia and Thailand
We should have planned for more time (or fewer bucket list checks), but we had other considerations... one was getting all the work done on Soggy Paws, and the other was the schedule for visa renewals in the Philippines when we returned. For the first two months of your time in the PI on a tourist visa, you can only do monthly renewals. After 2 months, you can apply for a longer extension (2 months at a time, presently). We wanted to be in the Philippines for the first 2 months, and apply for a 2 month extension, before we left Davao at the end of March. So January 28th was about the last we could fly back in from Thailand that wouldn't hold us up in March.
So after 29 days aboard in the marina in the Philippines, working feverishly on boat projects, we took off on Jan 8 for a little R & R in Cambodia and Thailand.
After an uneventful flight direct from Davao, we spent a short overnight at the The Tune Hotel at the Kuala Lumpur (Malaysia) International Airport, and were off early in the morning for our flight to Siem Reap in Cambodia. The Tune Hotel at KLIA is a great spot for an overnight stopover. You can walk to it from the International terminal. All the other hotels require a taxi or bus ride into downtown KL.
Cambodia (Siem Reap & the temples of Angkor)
Since we were on a fairly tight schedule, I had pre-booked a Tuktuk (motor tricycle) driver/tour guide via the internet, using a recommendation from a TripAdvisor blog. Mr. Sulu TukTuk Tours turned out to be a fantastic choice. Sulu met us at the airport, took us to the hotel, and then off for the first day's touring, starting with a stop to get our permit. He spoke good English, and was polite and not pushy. He knew where to go to minimize crowds, yet still get us to all the major attractions in our 3 day visit. He picked us up at the airport, took us through 3 days of touring, and took us back to the airport on the 4th day, all for the pre-arranged fee of $80 USD. We have since recommended 2 other travelers to him and both felt the same way we did. Click the picture below for a link to his facebook page, and contact him there, or email him at mengleaplim@gmail.com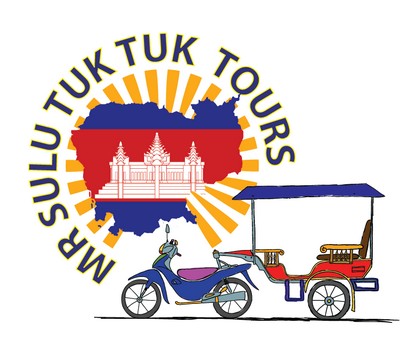 We bought a cell phone sim card in the airport, even though we were only going to stay 3 days--to be able to contact our driver, the hotel, use the internet, etc. It only cost $10 (text, voice, and data already on it), and was well worth having.
Our Siem Reap hotel I'd booked off Booking.com and it was a fairly new establishment, and located on a back street, but not far from the main tourist part of town. A guy who was teaching hospitality at the local college, bought a 5 room "hotel" to reap some of the tourist dollars, and also help train his students in hospitality in the real world. The hotel room for 2 people, a queen sized bed, with private bath, air conditioning, and breakfast, cost $36 USD TOTAL for 3 nights (Siem Reap Phan Villa). As an exploding tourist destination, there are plenty of $100 per night hotels in Siem Reap, but we didn't need to spend that kind of money on a place to sleep!!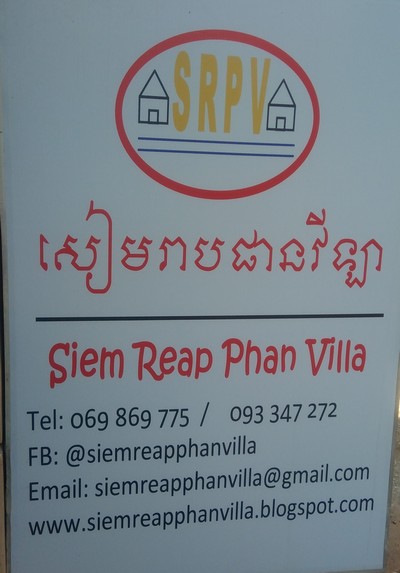 Our Hotel in Cambodia
It was only a short walk to the tourist center of Siem Reap.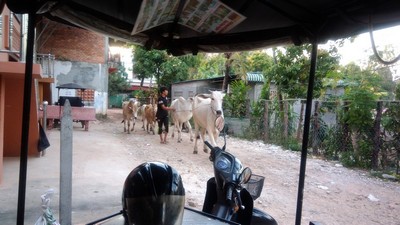 The Neighbor Bringing His Cows Home
Ankor Wat was amazing--similar to the Pyramids of Egypt; the Mayan structures we'd visited in Guatemala, Mexico, and Honduras; and the Inca structures in Peru, we just couldn't believe that such fantastic structures could have been built so extensively back in the day before big cranes and modern building techniques.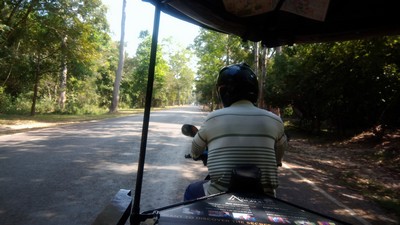 With $60 3-Day Tickets in Hand, Headed Out to our First Temple
Dave and I together took 630 pictures in 3 days. This is one of the reasons it has taken so long to produce this blog! (sorting through the pictures, trying to remember what we were taking pictures of) But below are few pictures to give you the gist of the magnitude of the Khmer empire at one time. We did 2 days of touring temples, and then spent our last day on a trip to the lake, and somehow also squeezed in a couple of hours at a small "World War II" museum. We kind of lost track of which temple was which, so I'm not going to try to name them below, but just show you some pretty pictures.
Unfortunately, we hadn't done any studying at all about Cambodia, the Khmer Empire, or the history or culture, so we felt pretty stupid at times. We did buy a $10 book from a vendor at the first site we stopped at, but then never had time to read it carefully. So for those of you starting out where we were, here's a very brief recap.
Between the 8th and 13th centuries, a succession of first Hindu, and later Buddhist kings created magnificent temples in stone. Each temple was bigger then the next, but all had elaborate carvings, honoring Hindu gods, detailing victories in battle, and honoring Buddhist principles. The final two temples, and the biggest, were Angkor Thom in about 1200 AD, and Angkor Wat, around 1250 AD. After about 1300 AD, the Buddhist temples were built out of wood, and few survived. There are about 100 temples scattered around in Cambodia. In our 2 days of temple touring, we were able to briefly visit 13 of them. I'd love to educate you more about each temple, but honestly, it kind of all blurred together. Knowing a bit of Hindu lore would be useful before visiting, as most of the symbology at the temples were Hindu. Here are a few of the pictures we took: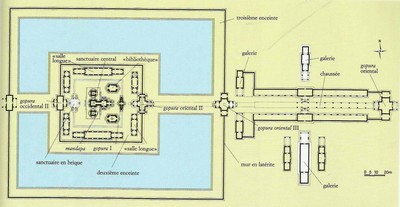 Typical Temple Layout (Bantai Srai Temple)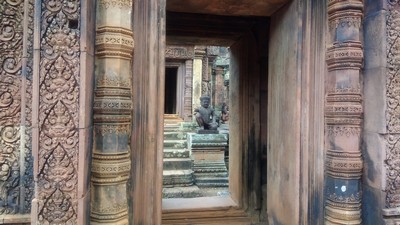 Looking in the Gopura Oriental at Bantai Srai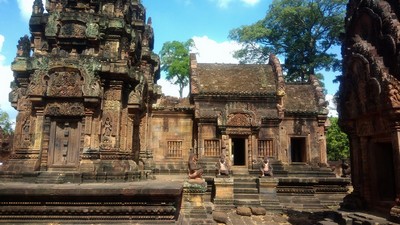 Inner Temple at Bantai Srai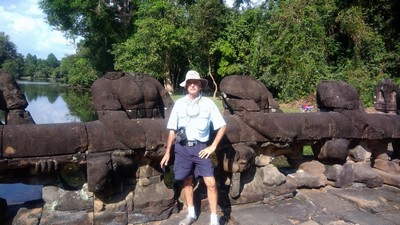 Dave Standing in front of the tail of a Naga (snake) being pulled to churn the underworld
Unfortunately, the heads on the men holding the (very large) tail of the snake have all been "looted".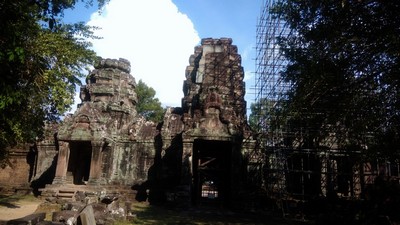 Lots of Reconstruction Work Going On in Various Temples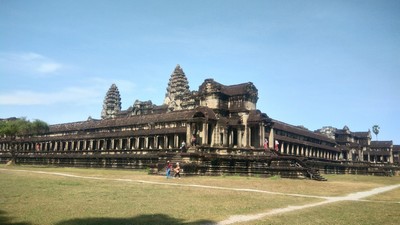 Angkor Wat Is So Big, It Is Hard to Photograph!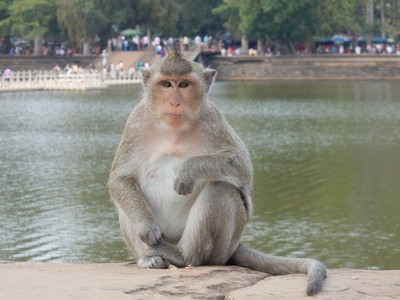 The Monkeys Were Always an Attraction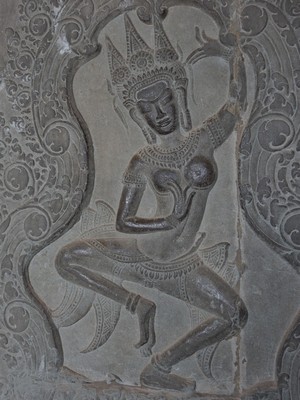 The Apsara, an Iconic Hindu Image, Adorned Every Temple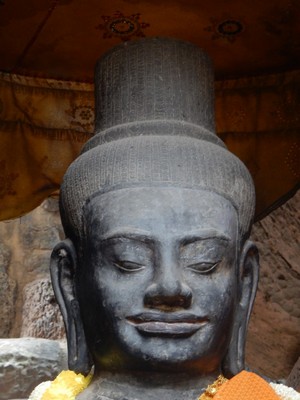 Images of Buddha Also Adorned the More Recent (but still old) Temples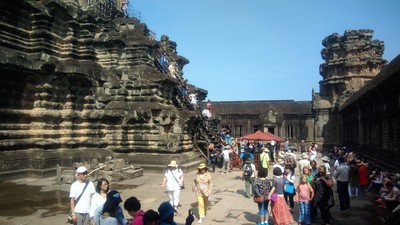 An Hour Long Line (We Passed!)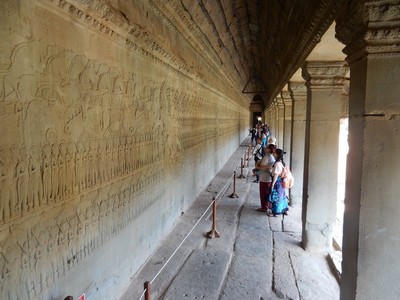 The Entire Football Field-Sized Wall Was Carved with an Elaborate History of Battles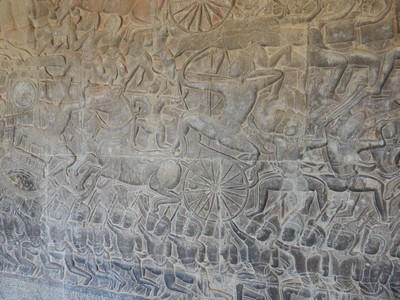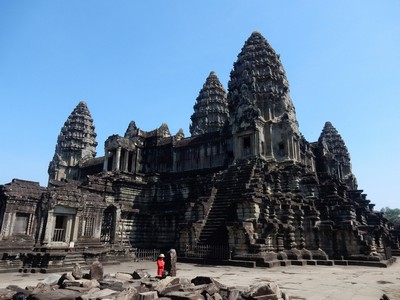 Just One of the Inner Temples in the Large Complex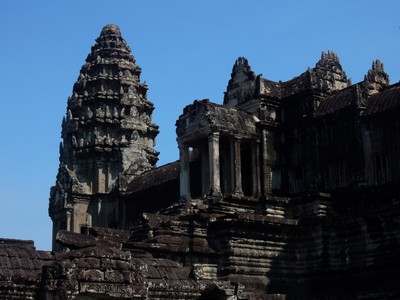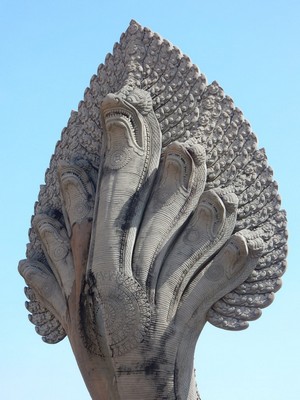 A Naga (7-Headed Snake) Guarding the Causeway to Angkor Wat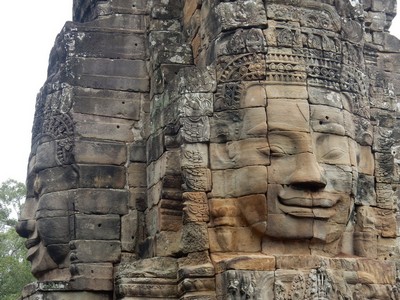 My Favorite Temple (Bayon)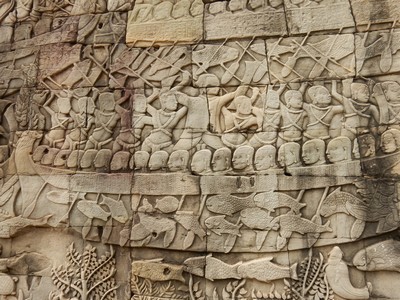 Another Temple with Elaborate Scenes Carved in the Walls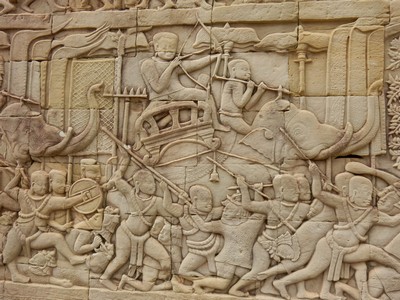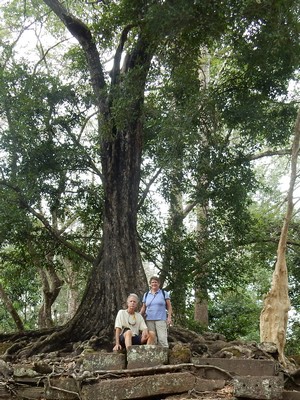 Trees Are A Major Problem in Restoring the Temples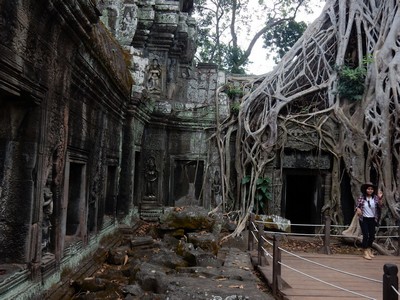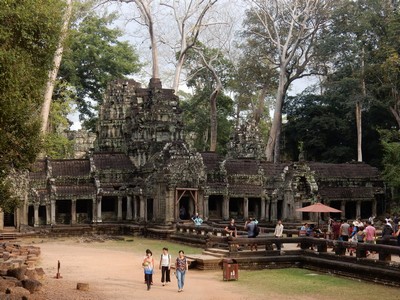 Another Temple! This One Guarded by Lions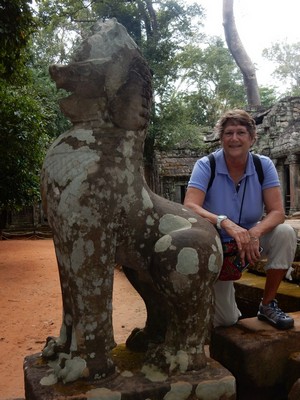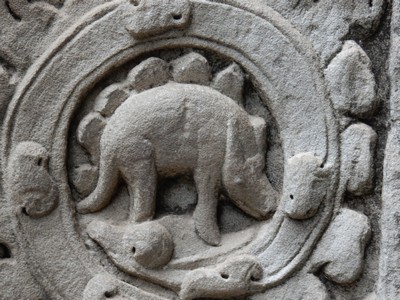 A Helpful Guide Pointed Out This Stegasaurus(Methinks a Joke by a Restorer?)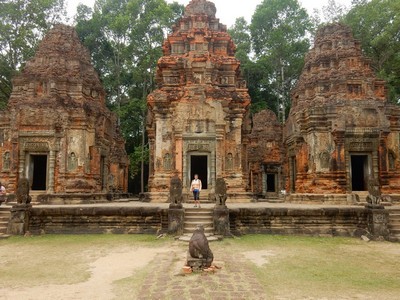 Thankfully, Our Last Temple (Preah Ko)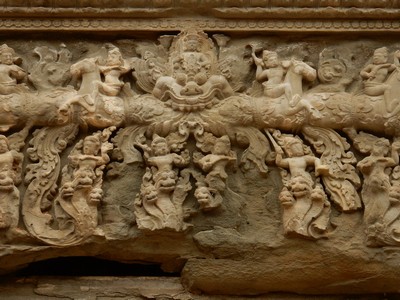 Templed Out
After two long days and touring 13 temples, on our last day in Cambodia, we went out to see Lake Tonle Sap. It is the largest fresh water body in South East Asia. Its dimension changes depending on the wet and dry season. During rainy season from June to October, the lake is filled by water flowing from the Mekong with 45 feet in depth and expands the surface of 10,000 square Kilometers. In dry season from November to May its size 3,000 square kilometers with 6 feet in depth and water flows backwards, from the Lake to the Mekong, in and out flowing is the natural phenomenon occurrences.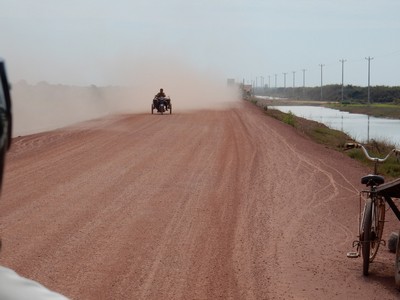 It Being Dry Season, It Was a Long and Dusty Ride to the Lake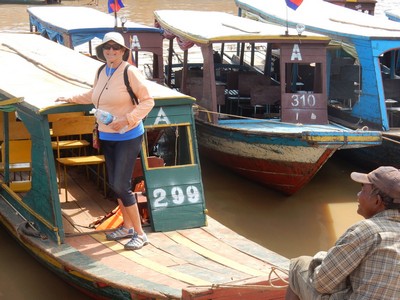 Boarding Our Private Tour Boat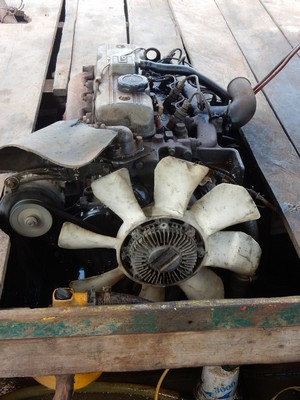 The Engine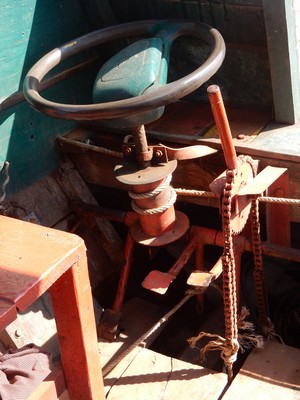 The Steering Wheel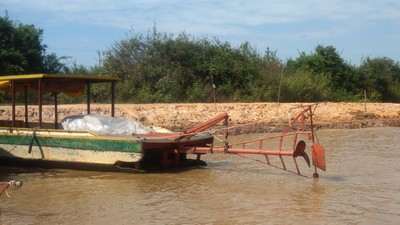 The Drive Train and Propeller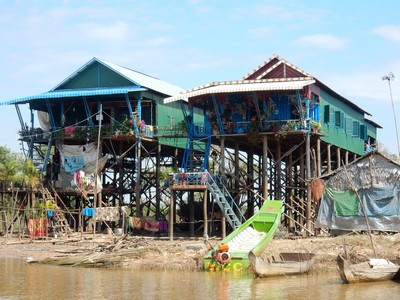 Houses with Big Stilts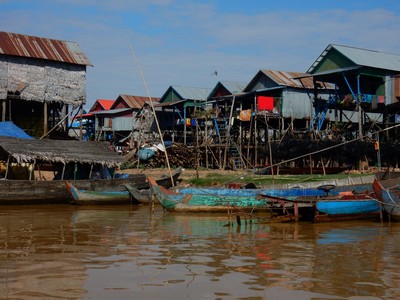 Was There Any World War II Action?
Dave can't pass up a war museum, especially one that promises World War II memorabilia. It turns out this one had much more modern stuff. But we still enjoyed poking around.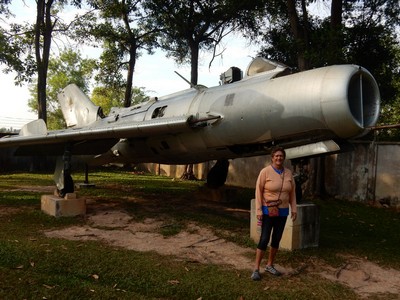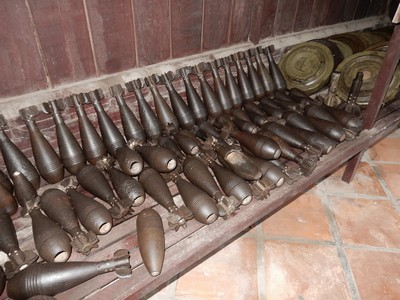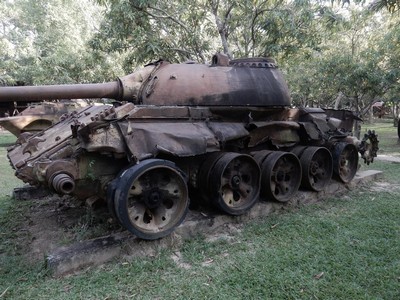 And we did all that in 3 days!! Then it was on to Thailand!