We were diving in the Triton Bay area May 5-19, May 28-June 10, and June 22-28.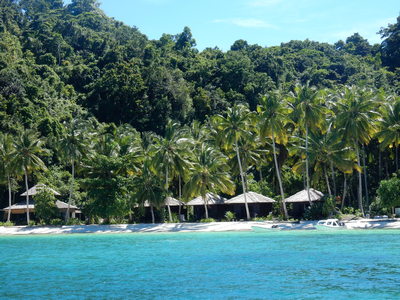 Triton Bay Dive Resort
Because of the need to renew our Indonesian visas every 30 days, we made two trips to Tual, 100 miles south in the Kai Islands, while we were in Triton Bay. We'll detail those passages, and our fun in Tual in another post. We also made explorations up 4 different rivers in West Papua, in the Triton Bay area. We'll detail those adventures in yet another post.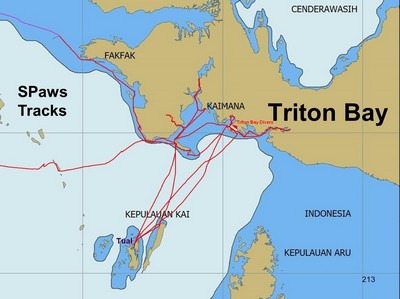 Tracks of Our Time in Triton Bay
The Diving
The diving is what we went to Triton Bay for. It is another of the four world-class diving areas detailed in the guide created by Conservation International, called Diving Indonesia's Bird's Head Seascape. CI's interest in publishing this book is to create a sustainable eco-tourism business in this thinly-populated area of Indonesia. The idea being that if the eco-tourism business is thriving, then the logging and mining interests will be held at bay, and this area will remain a pristine and protected area. They started something wonderful, as the Raja Ampat area we visited last year is really getting going, with more and more diving resorts and live-aboard dive boats, plus small village-based "home stays" for the adventurous budget traveler.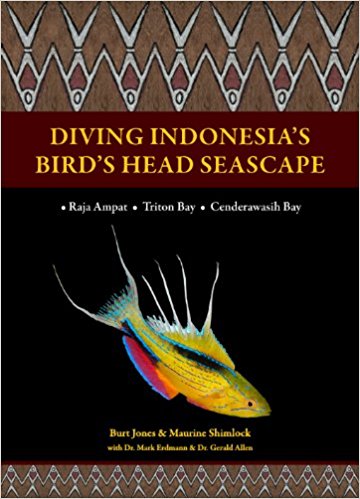 THE Raja Ampat Diving Guide
In Triton Bay, however, the development of the eco-tourism business has been MUCH slower. There is still only one dive resort, Triton Bay Divers, and no liveaboards dive boats are based there. A few liveaboards make stop in Triton Bay on repositioning cruises when the seasons change. For us, that's not a bad thing! That meant that we had all the great dive spots all to ourselves.
Once in Triton Bay, we finally met up with our friends on Gaia and Ocelot, who had already been in Triton Bay for a couple of months. Plus Ocelot had made two other visits to Triton Bay in prior years. It was Ocelot who encouraged us to hurry down from Bitung to catch the tail end of the diving season there. From June through August in southeastern Indonesia, the SE Tradewinds from northern Australia brew up big waves, and sometimes big winds. So the Triton Bay Divers resort shuts down from mid-June to mid-September.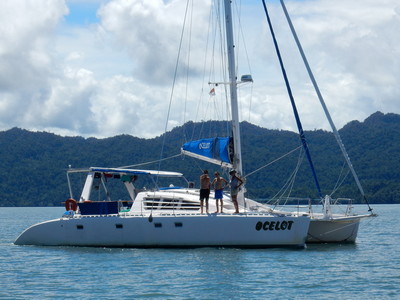 We Had Fun Exploring Triton Bay with Ocelot
We arrived in the Triton Bay area on May 5, and spent the first few days dinghy-diving with Gaia and Ocelot. There is a lot of current in the Triton Bay area, and so diving has to be timed as much as possible for slack current, and sometimes it is still prudent to have a surface boat. In spots where we knew we would be diving in current, one of us would volunteer to stay with the dinghies on the surface, and be available to pick people up as they surfaced from the dive. Other times, we picked a spot to dive in that is out of the current, and could just anchor our dinghies and everyone could dive together.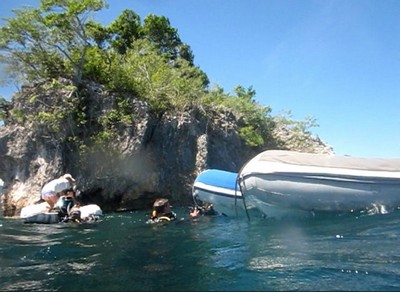 Dinghy Diving with Ocelot and Gaia in Triton Bay
After a few days diving on our own, we and Ocelot moved and anchored in front of Triton Bay Divers. This anchorage is exposed to the SE, and if a big SE wind comes up, it's not a very comfortable anchorage. But for the nearly two weeks we spent there in May and June, it was mostly fine. The winds, if they come up in the afternoon, usually die out by nightfall. And it is only 2-3 miles back to our very protected anchorage if we felt we needed to escape. But in all the time we were there in May and June, the wind never got bad enough that we felt we needed to move.
The benefit of anchoring off the resort was first, a little internet--with few guests in May and June, the resort was willing to let us use their satellite-based wifi. (It's 40 miles to Kaimana town from Triton Bay, where the closest Telkomsel tower is). Another benefit was dinners ashore! Again, in the off season, we could ask if we could come in for dinner a day ahead of time, and if they had enough food to accommodate us, we could. Only once did we have to loan them a few veggies so they could make dinner for us! The TBD chef was an amazing cook, and a very charming young man, too. Finally, it made it easy to go diving with the resort. As in other spots, it being off season, we were able to negotiate a dive package of 20 dives at a good rate.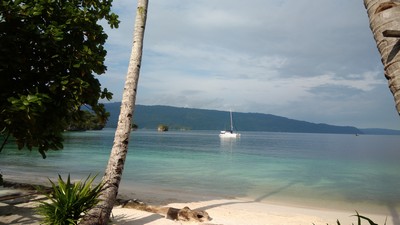 Soggy Paws Anchored off Triton Bay Divers
The dive boat would swing by our boat in the morning and pick us off the boat. We usually did 2 dives in the morning, and get dropped back off on our boat for lunch. The surface intervals between dives were always spent on a gorgeous white sand beach with palm trees. We left our gear in the boat, and the dive staff would rinse all the gear in their fresh water basins, and have it ready for us the next day. Pretty posh diving for us! In May, we were nearly always diving with 2 other divers staying at the resort. In June, we mostly had the boat, a boat driver and his helper and at least one dive guide to ourselves. Either way was good, as we enjoy interacting with other travelers and divers.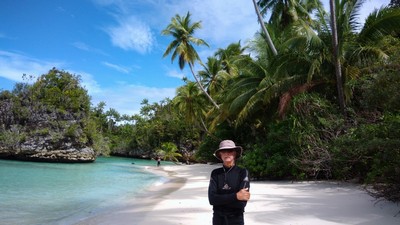 Dave on the Gorgeous Beach Between Dives
Dave got really hooked on "muck diving" in
Lembeh strait
--the search for tiny critters usually buried in bottom debris. So his favorite dives were the "critter" or "macro" dives.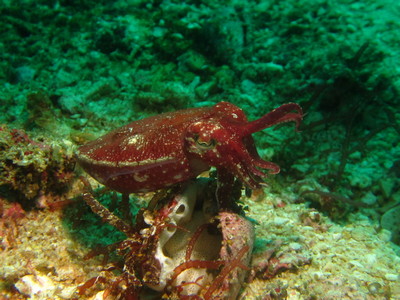 A 2-Inch Long Cuttlefish
But Triton Bay has a number of "coral and fish" dives as well. But this time of year at least, the frequent rain and the nearby rivers kept visibility low. Taking good "coral and fish" pictures underwater in low-visibility situations is difficult. We'll post a few of our best pictures when we get a chance. (I'm writing this while motorsailing slowly NW on an expanse of open ocean, in almost no wind, getting ready to cross the equator again).
The Whale Sharks
On our last day before our first trip south to Tual to renew our visas, we scheduled a whale shark dive. The whale sharks congregate around fishing platforms scattered in the narrow stretch of water between Namatote Island and the mainland. The fishing platforms have nets draped underneath them, and shine big lights to attract the fish, then lift the nets. The whale sharks hang out around the platforms because the fishermen believe them to be good luck, and feed them handfuls of fish. People wanting to dive or snorkel with the whale sharks just need to find a platform that has a whale shark hanging about, buy a bucket of baitfish from the fishermen, and jump in. The pictures we've seen are amazing.
Alas, by the end of May, the whale sharks have headed for other waters. Our dive boat checked with every fishing platform (called bagans) in the strait, and no one had seen a whale shark that day (probably not for several days). Bummer! Well, another time, another place, perhaps. We did see some "wall paintings" left by ancient people on the sheer cliffs of the strait. With changes in water levels, the wall paintings are now 20-40 feet overhead. Pleasant boat ride, but not what we were hoping for!
Visa Renewals
Everyone's cruising schedule in Indonesia, after the first two months, is dictated by the need to do monthly visa renewals. Gaia's date was a week ahead of ours, and they were headed for Banda and then to Ambon to renew their visa, so they left in around the 10th of May. Ocelot's renewal date was only a few days ahead of ours, to they took off a few days early for Tual. We stayed and did a few more dives with Triton Bay Divers.
The Fabled Japanese Plane
Dave had heard rumours of a "Japanese Plane" sunk in the bay at the southern end of Aiduma Island. Ocelot said that they had snorkeled the area the year before and not found anything. On our first trip to Tual, we left on a day with no wind. That bay, which is normally exposed to the SE wind, was flat calm. We motored into the bay and looked around, but didn't find anything. But it piqued Dave's interest, and on our next visit to Triton Bay Divers, he kept pushing Lisa, the owner/manager, to find out more information from the locals about the plane. Finally, just before we left for our 2nd trip to Tual, the weather forecast looked good, and Lisa arranged for one of the local boat drivers to come show us exactly where (he claimed) he had seen the plane with his own eyes. We were sure we could use our plane searching techniques to do an organized search for the plane.
The conditions were perfect for a search--visibility was good and the waters relatively calm. But in two hours of criss-crossing the bay in an organized search pattern, we found no sign of debris anywhere. Even if the entire plane had been dragged away by the SE winds/waves, some debris should have remained (heavy engines, etc). The locals described the plane as being big, with the tail standing straight up in the air about 15 feet. We did a little search on the internet and found one account on PacificWrecks.com about some planes on a mission to bomb Kaimana being shot down, but no specifics. The locals told us that it was an Allied plane, only the pilot survived, and he was eventually handed over to the Japanese in Kaimana, and no one knows for certain what happened to him. We can only surmise, if the locals have the location right, that the plane, and ALL the associated debris has either been buried in the sand, or maybe was a wood and fabric plane, and it is just gone. (Still, we think we should have been able to find some fragments of engines and heavy metal parts...)
-----
Cruising West Papua, Indonesia, slowly headed northwest toward Bitung
At 7/11/2017 7:50 AM (utc) our position was 01°47.33'S 129°39.19'E
http://svsoggypaws.com/currentposition.htm