After watching our cruising friends blogs and Facebook postings about Wayag for the last 2 years, we had high expectations. And Wayag has met them in every way.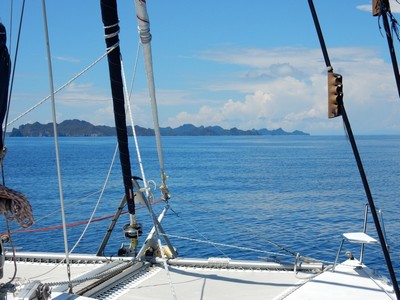 Our First Glimpse of Wayag
Wayag is similar to the karst islands of Vavau, Tonga, the Lau Group in Fiji, and the amazing rock islands of Palau. They are left over from volcanic activity many years ago. The water depth goes from 100 ft to 2 ft in the space of 10 ft, and then soars up to a pinnacle towering above us.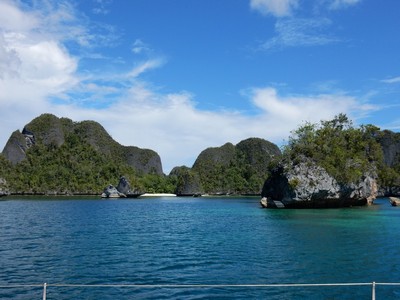 In to the Center of Wayag
Fortunately, the inner part of the lagoon has accumulated enough sand over the years to provide reasonable anchoring depths in good sand (not coral) and in a nice protected bay with a pretty sand beach. Other than a tiny "ranger station", it is completely uninhabited. We are here with only 3 boats (us, Sapphire, and Evia Blue, with Sirius and Verite on their way), so we have friends to play with, but plenty of room to get off on our own if we wish.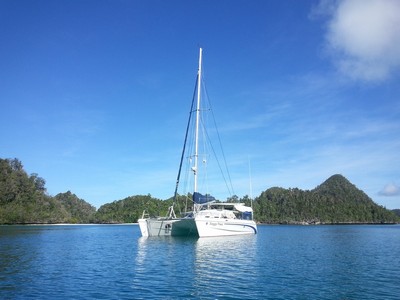 The Inner Anchorage at Wayag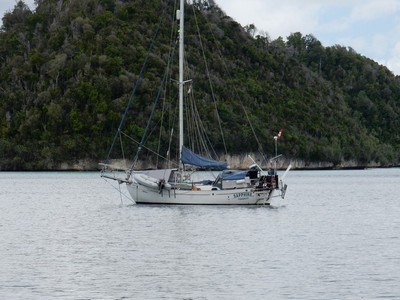 Our Token Monohull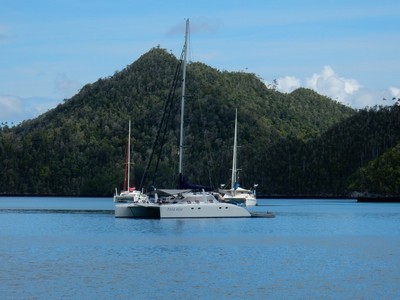 The Cat Pack Has Finally Arrived
A few days ago, a big yacht named Alchemy anchored up for a couple of days--we didn't even know they were there until we passed by a cut in the dinghy. They had snuggled up in their own private cove--there are many such places in the Wayag Archipelago. We stopped by to say hi, and they were very welcoming. We knew they were good guys when the crew were all sporting "Sea Shephard" T-shirts.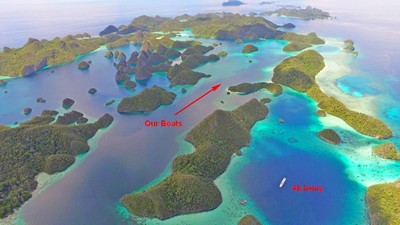 Alchemy's Drone Photo of Wayag
They invited all of us on the 3 yachts aboard for an evening of socializing. They were amazed at each of our stories of cruising the wold. And they shared the extensive knowledge of their dive guide, and diving experiences in Raja Ampat. There is an excellent printed guide to this area... Diving Guide to the Bird's Head Sea Scape, and everyone coming here should have a copy. The book has conservation info and has something like 50 dives listed in the next 50 miles of cruising...way too many to see them all. But Matt, the dive guide, shared a few highlight dives with us, and also gave us a little info on where to anchor. He also put Dave in contact with a WW2 resource here in the area.
We also got some great shots of Alchemy anchored up in the hot dive spots they told us about--they have a very nice drone with a competent operator. They even took some nice shots of our boats here in Wayag.
We have climbed Mt. Pindito, which is a "must do"... a half hour scramble straight up in extremely sharp rocks. Unfortunately, where our boats are anchored, we could only see the tip of one mast from the top. But Alchemy gave us a picture of our boats anchored up in our lagoon, taken by their drone!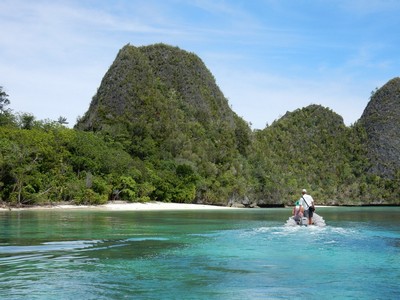 Hiking Mt. Pindito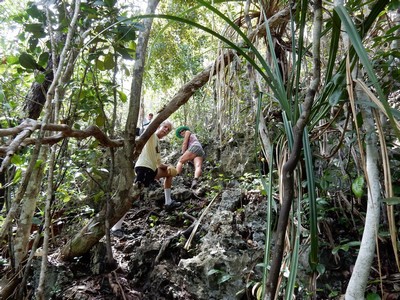 Climbing Straight Up on Sharp Rocks
(Gloves and Sturdy Shoes Recommended!)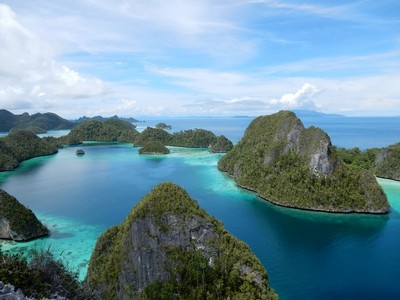 The Stunning View is Worth the Work!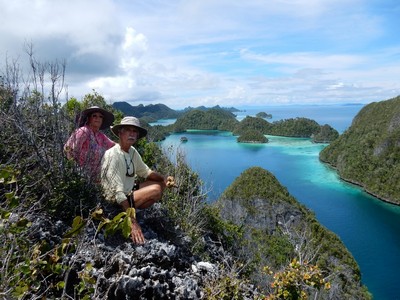 Definitely a Cover Photo!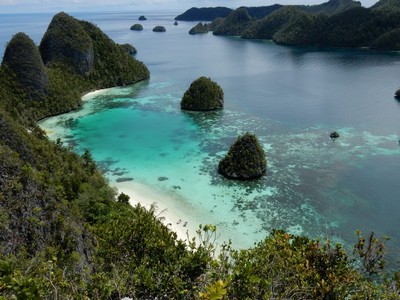 Our Dinghies Far Below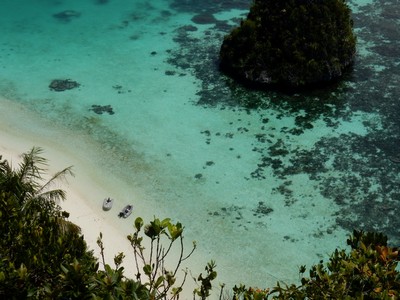 We have been out every day on at least one snorkel or dive trip.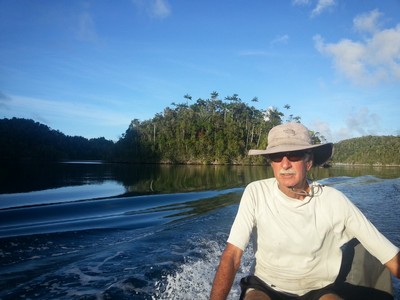 Another Dinghy Expedition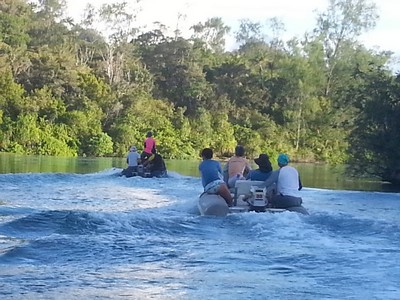 Out To Snorkel on An Outer Reef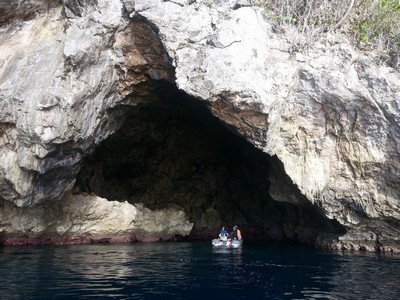 Cave Exploration Too!
Jan on Evia Blue and John on Sapphire are also divers. The snorkeling inside the lagoon is a little disappointing... a bit silty, though there is lots of life to see. But just outside the lagoon the water is clear and the sea life is absolutely amazing. I've never seen so much live coral, or so many fishies, and so much diversity!!! Even us jaded old Pacific divers are seeing new fish and new coral.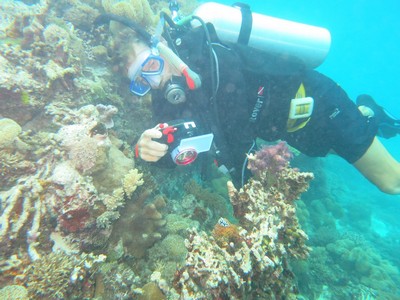 Jan From Evia Blue Taking a Difficult Shot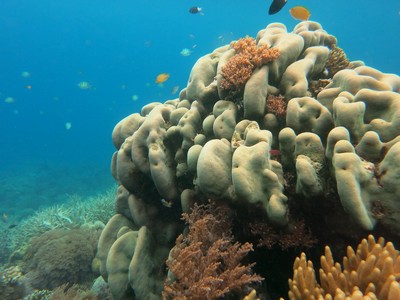 Beautiful Live Coral Everywhere!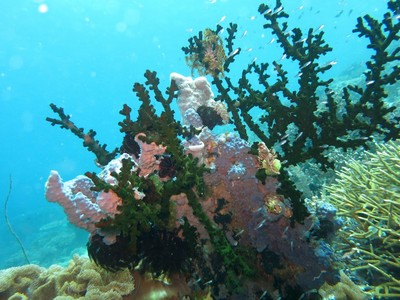 The huge amount of sea life is (a) because this is a nature preserve, a complete "no take" zone and (b) the karst islands are so severe (no soil, no natural water) that they don't seem to have ever been inhabited. (c) this is almost on the equator, at the convergence of several current streams, and full of plankton for everyone to feed off of. If you can brave the currents where the big fish are hanging out, you can see some really big fish in the wild. Or you can hang out in a protected cove and see more cute little fishies than we've ever seen in one place before.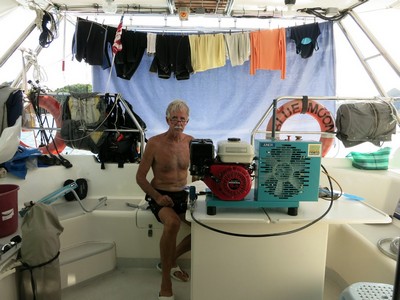 Dave Getting Ready to Deploy the Compressor on the Back Deck
We've been here 10 days, and are not yet talking of leaving... we are not due anywhere else until mid June. But we could easily spend a week or two cruising to our next stop (where we'll find gas for the dinghies and fresh fruits and veggies, and internet). So we ought to start thinking of leaving....
-----
At 5/26/2016 5:13 AM (utc) our position was 00°09.72'N 130°02.02'E
http://svsoggypaws.com/currentposition.htm