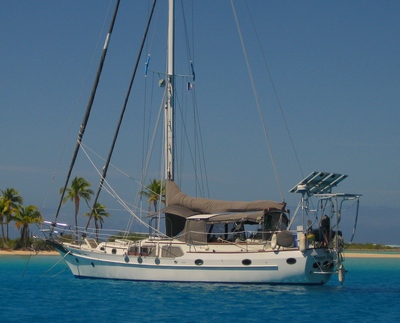 Soggy Paws - CSY 44 WalkthroughOne Helluva Cruising Boat
On our last night in Sangihe, Dave and I stopped for a nightcap (and a battery/starter consult) on Soggy Paws the CSY. Ah, the nostalgia...sitting in the same familiar cockpit that we'd spent so many many miles and hours...but it now belonged to someone else.
In the morning, we would be heading out ESE to Morotai, and our sweet old girl would be heading south to Bitung, and ultimately, Australia.
It was a very bittersweet experience. We are jumping for joy because she sold. We are happy that she's been bought by someone who will love her as much as we did. But she was a helluva cruising boat by design, and extremely well set up from Dave's 20 years of constant upgrades. Every time we turn around, we find something on our new boat lacking that had been comfortably set up on the old boat. And we knew every crack and crevice, every little quirk. So it wasn't hard work keeping her maintained... just tedious.
"This is the 5th time I've repaired this pump!" Only the 5th time? In 20 years? That's actually not too bad. On the 5th time, you have all the knowledge, spare parts, and tools to make a quick job of it. But it does get tedious, repairing the same old things over and over.
On the other hand, we are on the "first" on everything on the new boat. We still don't have half the tools we need, and certainly don't have all the spares that would make maintaining a cruising boat in far-off places easy. Though I've been scouring the internet for manuals and how-to's for all the stuff aboard, we don't have half the knowledge we need. We're starting all over again in that respect. Fortunately our Yanmar engines and saildrives are very common on cruising catamarans, so there are adequate dealers with spares, and lots of cruisers with experience and advice, and a few with common spares. All the "systems" aboard are a generation newer than on the CSY (rigging, pumps, electrics, etc).
Another problem we are struggling with is "Where did I put the...?" Because we moved all our stuff from the CSY over to the catamaran in a hurry--to get the refurb work started on the CSY--we put stuff everywhere and anywhere. The storage configuration in the cat is much different from the CSY. And of course we don't have the load-carrying capacity that we had on the CSY. So we have had to iteratively pare down our "stuff". We are still a little bit overloaded. Dave told me I couldn't take as much food and liquor as previously, and I told him he had to ditch the spare-spare-spare pump he bought at a yard sale 15 years ago. (We did neither)
Once we stored something aboard, we can't remember where it ended up. Something we used infrequently on the CSY, had been in the same storage location for 10 years, and I could put my hand on it in the dark. On the catamaran, as we loaded up, we have moved things a few times, and now are spending half our time looking for stuff. And sometimes we can't remember whether we actually have it aboard, or whether we gave it away, sold it at a flea market, or left it on the old Soggy Paws. Sheesh!!
However, after just a day or two aboard really cruising, we are in love with the catamaran. She sails fast and level, and is surprisingly dry in a breeze. With lower freeboard than the CSY, I expected it to be a fairly wet ride. But because she's so light, she just dances over the waves rather than plowing through them.
Once we have time to really settle in, we'll finish making the tweaks that we need to, figure out what spares we need without being excessive, and have time to enjoy the cruising life once again.
It's been a helluva year!
-----
At 5/26/2016 5:13 AM (utc) our position was 00°09.72'N 130°02.02'E