We are finally settling back into a routine here at the marina. Dave is working on getting the new Soggy Paws ready to go cruising, and monitoring the workers on Soggy Paws, our CSY 44 sailboat which is
for sale
here in the marina. Sherry is managing finances and communications in the morning, and working on "Boat Projects" in the afternoons.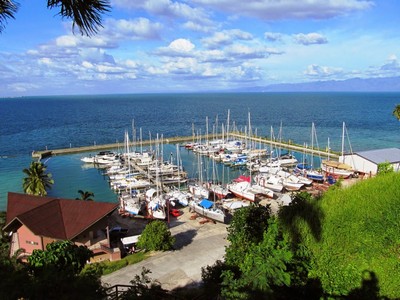 Ocean View Marina, From Up on the Hill
Photo by s/v Helena
The marina social life is nice here--a drink or two on the balcony of the clubhouse in evenings, Friday night BBQ/potlucks, and some other semi-organized social event about once a week. Just about enough.
Our friends on s/v Helena (who have moved on to Malaysia now) did a great post on life here at the marina, with pictures from our initial arrival in 2014 and all the nice things about the marina.
Click Here
We continue to mourn and worry about our friends who were kidnapped from here in September. The cruisers and the marina owners got together to put up a big banner on the balcony to remind us all that they are still in captivity. We search for news online daily, and ask the marina principals "What news?", but whatever may be happening is shrouded in secrecy. Publicity is not our friend in this situation. Some of the cruisers continue to campaign by email to any official who will listen (Philippine, Canadian, whoever) to "do something" to get them back. We feel helpless and don't know what else to do.
Meanwhile, the marina security has been beefed up. In addition, we are all more vigilant, and consciously thinking about "what if..." Each boat has done more thinking about personal security. But it doesn't stop us from taking the shuttle in to the town here, nor into the big city. We still feel reasonably comfortable being here. It's at least as safe/risky, in our opinion, as living/anchoring in Miami, or any other large city where random violence--or a car accident--could affect you on any given day.
We have started getting excited about our next adventure--a sail down to Raja Ampat in Indonesia, scheduled for May. More on that later.