Our new boat came with a 1,830 sq ft spinnaker. That's huge, to us at least.
We should have used our big spinnaker on the trip from Borneo. It would have been perfect in the light air astern. But we were lazy, and a bit apprehensive. Having cruised with a spinnaker on Island Time, and raced with one on Fast Lane, I felt comfortable sorting it out. But we were on passage, and tired, and there were always iffy-looking clouds somewhere on the horizon. So it was so easy just cranking our cute little Yanmars up when the wind went light astern. We should have also practiced with the spinnaker before while Kevin was aboard, to help us figure out how to set it up and fly it, but we never got to it.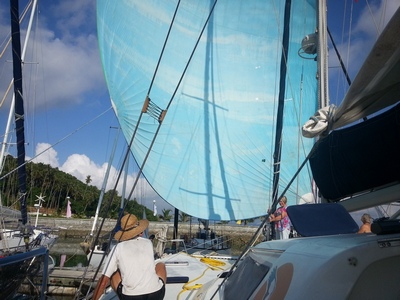 Spinnaker Lessons
So once at the dock in Davao, we enlisted our friends James and Lorna on s/v Mind the Gap to come over and show us how it should be done. They had sailed a number of times in Malaysia with Blue Moon, and had been the ones to move Blue Moon from Miri Marina in western Borneo to Pangkor where we bought her. James was also the one that convinced Dave that this was a very good boat for sale for a very good price. (And it was James and Lorna's being good friends with each of us, and having recently sailed on Blue Moon, that made our crazy hurry-up remote purchase work with not very much anxiety or risk).
Fortunately, we usually have a light breeze from astern in the mornings in the marina. In about 10 minutes, James and Lorna had showed us how easy it was to raise, deploy, douse, and lower the huge spinnaker (at least in light winds in the marina!). On a catamaran, no poles are needed!! We figured out that rather than lugging the big thing up on deck, we can raise it directly from the bathtub in the starboard hull--there's a hatch conveniently set up right over the bathtub. (One wonders if this was a design feature not in the manufacturer's literature!). It's a big asymetric with a sock, so when it's time to douse, just sock it, and drop it back down the hatch. Easy peasy!!
Now that we understand how to set it up and deploy it, we are looking forward to doing some light air sailing on our next trip. (Of course, the way Neptune works, we won't see light air again for YEARS!)
We kinda feel like the boat is under-winched. Only one cockpit winch on each side for the genoa. We could make do, as the previous owners have. But we'd feel more comfortable having another winch on each side--especially in heavy air when you might need help in a squall cranking in the genoa furling while still keeping control of the genoa sheet, and no time to play with stoppers. So two (hopefully used) Lewmar 42's are on our shopping list.