After a fairly long and very enjoyable visit in the U.S., we are back on Soggy Paws at Holiday Ocean View Marina, Samal Island, Davao el Sur, Philippines.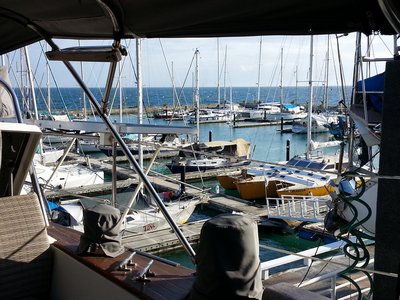 The View from Our Cockpit
We left our condo in Florida on Jan 4 and drove to Atlanta (with several stops), where we left the car. We flew Southwest to San Diego to visit Dave's son Chris. Then we drove to Travis Air Force Base to fly out via Military Space Available flights.
Recap on our Military Space A trip from California to the Philippines... it took us 10 days, 2 rental cars, 1 $90 bus ride, and $550 in hotel bills, plus we had to pay $750 in airfare for the last leg from Japan down to Davao. We went for free from Travis AFB in California to Hickam AFB in Hawaii, to Kadena AFB in Japan, to Yokota AFB in Japan. From Yokota we had to take a bus to Narita (Tokyo) airport, where we flew commercially to Davao. We almost got a free miliatry flight into Clark AFB in the Philippines, but that one got cancelled with no prospect of a reschedule. So we had to buy a ticket for the last leg into the Philippines. My estimate of costs if we had flown commercially from San Diego to Davao is about $1500 (for 2 one-way tickets) on Singapore Airlines. So we probably saved a couple of hundred dollars, and we had an ADVENTURE! Email me if you want the blow-by-blow of that trip, for those of you who haven't been following it on Facebook.
Our good friends, Philip and Leslie on Carina, kindly opened up Soggy Paws on the day of our arrival, so at least she was aired out a little.
We arranged with Don Don who drives the shuttle bus for the marina to come pick us up at our hotel in Davao, so we didn't have to try to shlep 4 large heavy bags and 4 small heavy carry-ons on and off the ferry by ourselves. He also made a 15 minute stop at the grocery store, so we could buy a few necessities. That was well worth the $10 price.
Soggy Paws is in fairly good shape. The inevitable mold inside the boat isn't as bad as I expected. We had a little trouble getting the refrigerator going. Since we have a keel cooler and our keel is out of the water, the compressor was running hot and kept cutting out. So we put a big fan on the compressor, turned the speed down to its lowest setting, and wet down the keel cooler a couple of times. This seemed to work, and once we got the temp down to normal, we didn't have to mess with it any more.
Our port side scupper, which has always had a slow leak, has apparently been leaking a LOT. The bread pan we put in place to catch the drips was full, the cabinet and area under the Nav Station that gets the overflow was wet, and the whole map case area under the Nav Station lid had standing water. Not good! But we've finally gotten that all dried out (Fortunately, everything in that area is wrapped up against water incursion, because this isn't the first time it's been wet under there!). This is number one on the priority list before we leave again.
The weather here is just delightful right now. Reminds me of the Keys or the Caribbean in the spring. Some brisk wind from the north and nice cool (but not cold) conditions. Highs about 80 during the day and lows of about 70 at night.
We are still unpacking and commissioning systems on the boat. Dave has spent the last 2 days working on our motorcycle, which wouldn't start. It had a marginal battery before we left it for 3 months, so Dave got a new battery, cleaned the carburetor, and tinkered a bit. It started yesterday morning OK, but the carb was leaking. After spending all day yesterday working on it, he got the leak fixed but now we're back to "it won't start".
We didn't get a manual for the bike when we bought it. I searched the internet for one and found a parts manual in English, an owner's manual in Pakistani, and a Service Manual in Spanish. I emailed Suzuki Customer Support in the Philippines, looking for a PDF file, but they were not helpful (pththt! to them). Fortunately there's another guy at the marina with the same bike, and he's been kind enough to help us out and loan us his owner's manual. I am sure Dave will get it sorted out today.
So now it's time to get to work on some of the maintenance items that have been waiting for us.
We fly out again on Feb 28th for a 2-month sightseeing trip to NZ. So at least we've only got 3 weeks of drudge work before we're off again!