We finally made it to Ailuk! Ailuk Atoll is one of the "outer outer" atolls. That's why I wanted to visit here. I also wanted to visit because "Pumpkin", one of the Ailuk islanders, is on the Yokwe Net (SSB) every morning. There are 3 or 4 Marshallese on different islands who participate in the HF net. Pumpkin has been asking for weeks when we (several boats out cruising this summer) are coming to Ailuk.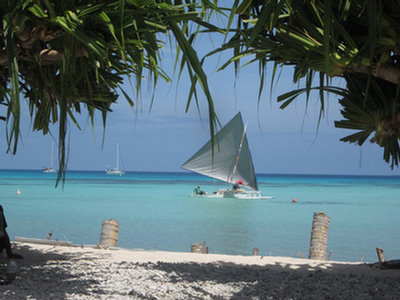 The View from Pumpkin's House
As we were laboriously tacking our way into Ailuk, we heard Pumpkin calling us on the VHF... welcoming us to his atoll. When we finally got anchored, he told us where his house was on the beach, and that's where we went first. Pumpkin's wife Emily greeted us with real flower lei's, and fresh coconuts.
It turns out that Pumpkin is the pastor of the Assembly of God church here in Ailuk. He and Emily grew up in Ailuk, but they went to high school in Majuro. They spent some time as pastor of a church in Mili, another Marshall Islands atoll.
Ailuk is unique among the atolls we have visited so far, in that they use the traditional Marshallese sailing canoe in everyday use.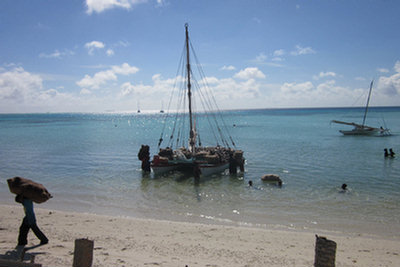 Men Unloading Coconuts To Process As Copra
Most atolls have a few canoes sitting around under palm trees, but most of them are paddle-powered. We have never seen a traditional canoe actually sailing. Here in Ailuk, they are the main means of transportation to the outer islands in the atoll.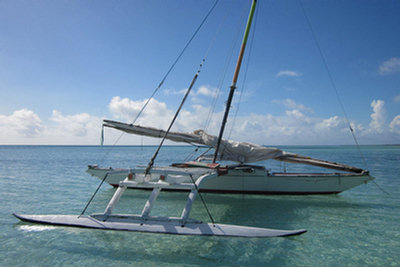 Ailuk's Main Means of Transportation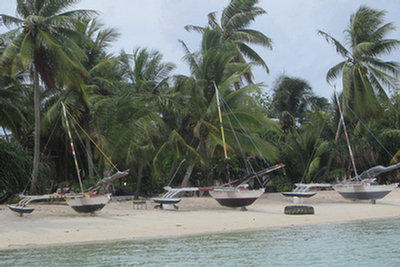 Ailuk gets a supply ship... maybe... every 3 months. They have a small weekly plane flight... maybe. Gasoline, if you can buy it, is $9-10 per gallon. We have been amazed at how prevalent the fiberglass boat with a 25-45 HP outboard has been all through the islands (Tonga, Fiji, Tuvalu, Kiribati). They are always short of gasoline, and always struggling to keep the outboards running. Most of these islands have totally lost the art of making, maintaining, and sailing the canoes. But not Ailuk.
Ailuk is also one of the atolls that produces some of the best Marshallese handicrafts. The only "cash crops" in Ailuk are copra (dried coconut meat used to produce coconut oil) and the handicrafts. This they normally send to relatives in Majuro, who then sell it and send back by ship the things that the Ailuk people need.
One of the first things we did after completing the formalities (showing our Internal Affairs permit for Ailuk, and paying our "atoll fee" of $50), was offer to help Pumpkin fix things. It is one of the common ways that yachties "give back" to the islanders for their hospitality. Pumpkin promptly produced a couple of broken inverters, and a generator.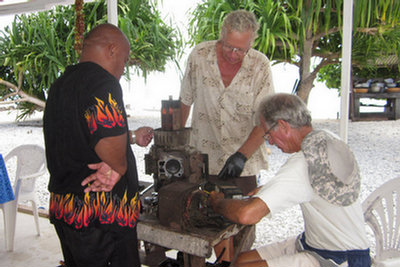 John from Opus Working on Pumpkin's Generator
Dave and John from s/v Opus spent one whole morning taking apart the generator. John, who's an excellent mechanic, did most of the work, while Dave watched and learned, and Pumpkin and Emily produced coconuts and lunch.
Unfortunately, after all morning taking the generator apart, John found a broken crankshaft. The oil had been allowed to run very low, and the engine just froze up and died catastrophically.
When we were hanging out on their back porch, Pumpkin's wife Emily offered to show me how to make the elaborate baskets that she and the other Ailuk ladies make. I never did take the time to sit and learn how to do it myself, but I did get Emily to make me a few beautiful Marshallese woven crafts.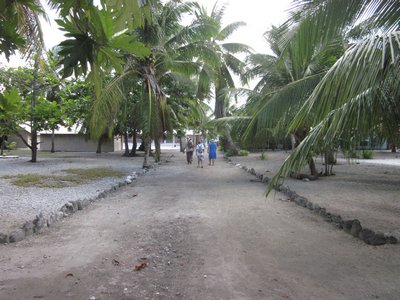 Downtown Ailuk
On our walk around the island, we found a quiet and neat village, with the streets and yards swept clean, and no trash around.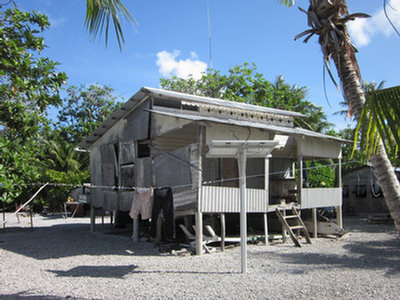 A Fairly Typical Marshallese House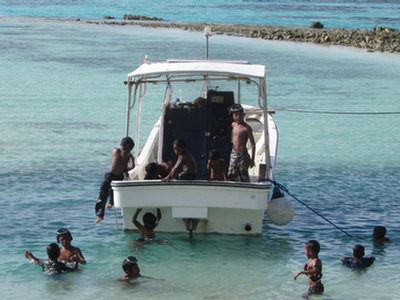 The Boys of Ailuk Enjoying Summertime Freedom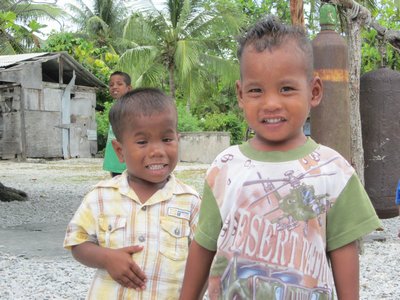 Cute Kids!
On Sunday, we were invited to Pumpkin's Assembly of God service. We were introduced in English, but the rest of the service was in Marshallese. We were especially taken with their practice of everyone in the church getting up from their seats and shaking hands with everyone else in the church (kind of a 7th inning stretch, before the main sermon, methinks).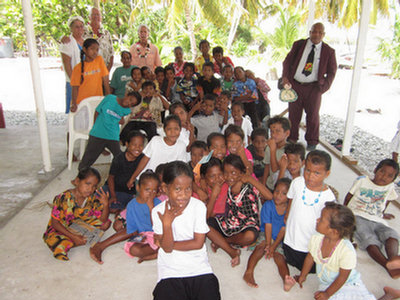 Emily's Sunday School Crowd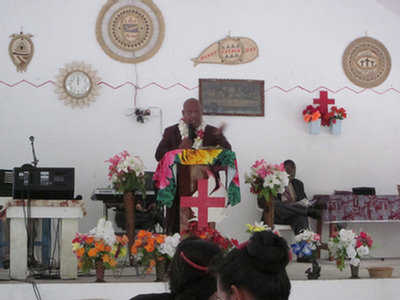 Pumpkin Delivering His Sermon
But the absolute highlight of our trip was when Pumpkin and Emily arranged for us to go sailing on two of the canoes.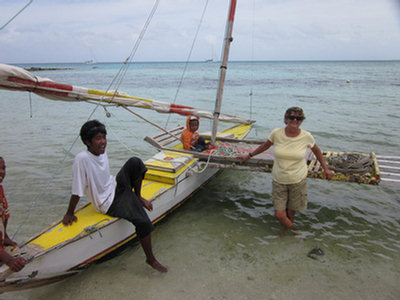 Readying Our Boat to Sail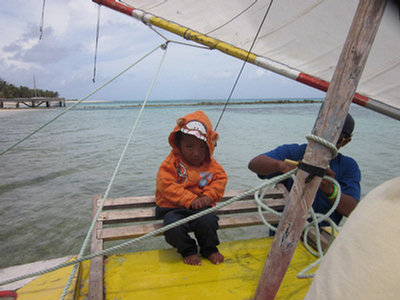 This Little Guy Came With Us--No Lifejacket Either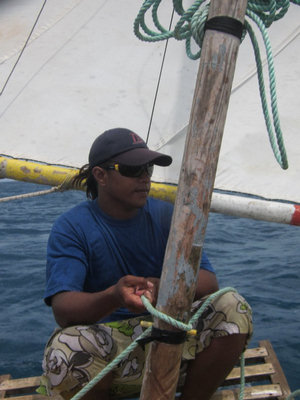 Our Skipper (The Kid's Dad)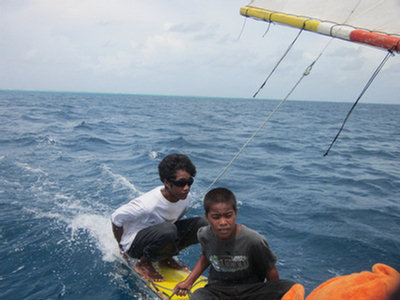 The Afterguard
The Marshallese canoes are a proa design, and to tack them, you have to reverse the boat--the bow becomes the stern and the stern becomes the bow. They unfasten the bottom of the V-shaped sail from the (former) bow, and swing it to the new bow. They detach the rudder from the pintles at the (former) stern and move it to the new stern. Everyone turns around, and off we go again. (Sorry we didn't capture this process).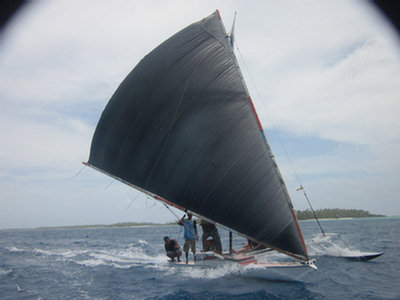 John, On the Other Canoe Is Haulin' Ass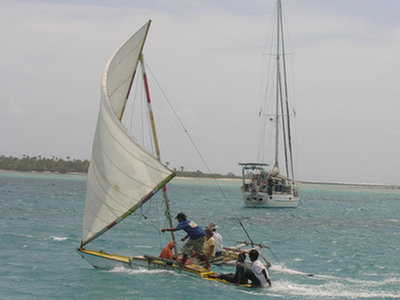 And So Are We!
See Our Ailuk Sailing Video
Interested in more about life on a remote Marshall Islands Atoll? I really liked this book:
Surviving Paradise: One Year On A Disappearing Island