We had a nice weekend in Namena 10 days ago, and a beautiful sail back (another beam reach in 12 knots of wind).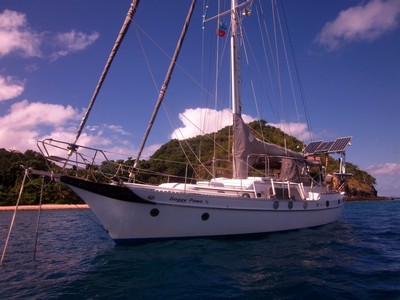 Soggy Paws at Namena
Since then we've been working furiously to get ready to leave Fiji. Dave has been (as usual) completing "projects"... new Bebi Electronics anchor light mounted. New "from the cockpit" mainsail reefing system. Finishing filling holes and painting the deck where we removed the old arch.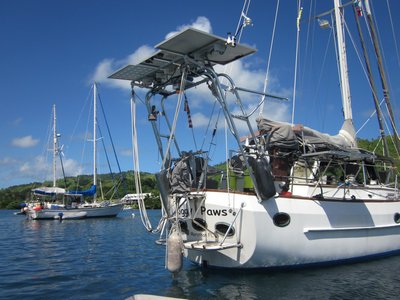 The New Arch Finished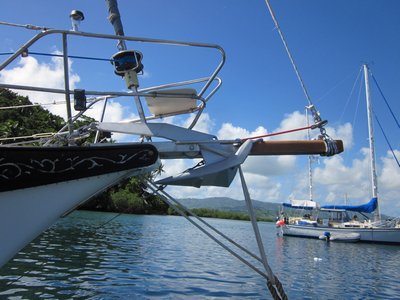 The New (Removable) Bow Sprit
Mounting a 2-foot "bow sprit" out the anchor roller tray, to try to get our roller furling Code Zero sail out further away from the Genoa so we can keep them both mounted and use whichever one is appropriate for the winds. (If they are too close together, then tend to bind on each other when furling, which can be a bad thing if you're trying to get the sail in in a hurry because of high winds).
I have (as usual) been working on the computer... getting ready for "almost no internet" for the next 3-4 weeks while we are in transit (and poor overall internet in the Marshall Islands), trying to get our rental condo booked up for the summer, etc.
I have also spent a lot of time researching about the trip through Tuvalu (Funafuti) and Kiribati (Tarawa), and in the Marshall Islands. I have completed a good first draft of "
The Fiji to Marshalls Compendium
", and am working on a first edition of "The Marshalls Compendium" (
see all our Compendiums here
) I have also completed a fairly complete set of Google Earth Charts for the Fiji-to-Marshalls trip and the beginnings of the Marshalls charts.
And of course, there's the provisioning... making sure Dave won't go hungry (and I won't go thirsty) for the next 3 weeks is quite a big job. We expect to catch some fish, but our freezer is stocked, we've got tons of tomatoes and other veggies. Plus a bunch of meals pre-cooked for meals underway.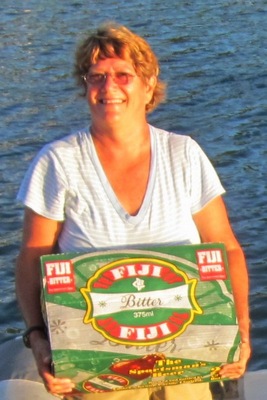 Provisioning the Important Stuff!
We are going to rush a bit through the islands on the 1500 miles to the Marshalls. We have gotten word of a possible dive trip to Bikini Lagoon that some friends based at Kwajalein are arranging. It is possible to visit Bikini on your own boat, but without difficult and expensive arrangements, you can't dive the wrecks there. We are hoping that this expedition friends have arranged will allow us to dive the wrecks. But we have to make it all the way to Bikini by about May 25. So our plan is to make quick stops only in Funifuti and Tarawa and blast on up to Majuro by about May 10. Then we'll have a week in Majuro to get organized and get our "out island" permits before heading out to Bikini (with a planned stop in Kwajalein on the way).
Whoosh!!! here we go again...