Sorry, been a little negligent in keeping up with the blog lately.
We finally got our Cruising Permit renewed and clearance for other ports completed, and finished our provisioning.
The morning we left, the wind predictions were still for very light winds. We opted not to put our genoa back up. If we got a chance to sail, we could always use our Code Zero. But in less than 10 knots of wind, the relative wind is either on our nose, or from behind and almost zero.
We headed straight for Namena, about 25 miles SW of Savusavu. We planned to hang in Namena for a few days to do some diving.
Namena is a Marine Reserve, surrounded by a thumb-shaped reef, and a tiny island with a small eco-resort in the middle of it. We had heard great things from friends who had dove there. And we met an underwater photographer in Savusavu who raved about how good the diving and marine life was.
We Buy our Tags to Support the Marine Reserve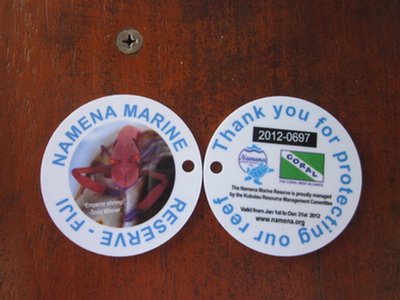 Note They Still Say 2012!
The weather was absolutely gorgeous--almost no wind and seas, and beautiful sunny skies. We had tracks and waypoints from other people, and in the conditions, going through the reef at North Save-a-Tack Passage was a breeze. As we went through the reef, we scouted for a likely anchoring place, so we could come back and go diving the next day.
We continued on to the single mooring on the NW tip of the island, provided to keep boats from anchoring on the fragile reef.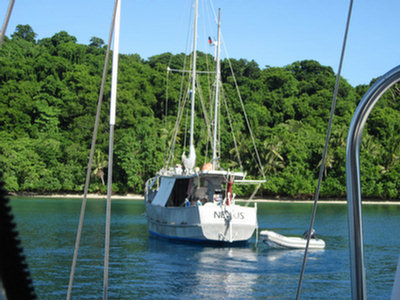 Nexus Anchored Just Inside of Us in a "Coral Free" Spot
About 5pm, Tobi from Nexus (our u/w photographer friend) came back from diving and taking photos out on the reef, to find us on 'his' mooring. He declined to make us move, however, saying that he knew better where to anchor so as not to damage the coral.
We spent an hour or so with Tobi getting a briefing on where to dive. We already had a pretty complete set of waypoints from commercial dive operators (Korosun, and Naia), but Tobi told us where we could anchor to dive safely from our dinghy.
Tomorrow: Diving Namena!!