We had a great time with my cousin Fred and his wife Suki here.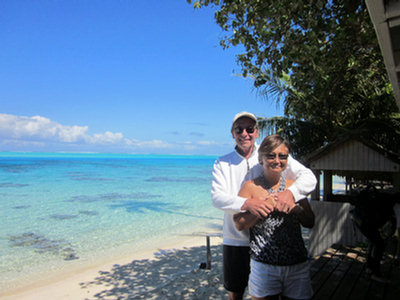 Fred and Suki on the beach in Bora Bora
This was Suki's first ever experience on boat this size, and the first time she had ever slept onboard. But both Fred and Suki were very adaptable and were great boat guests. They are welcome back any time.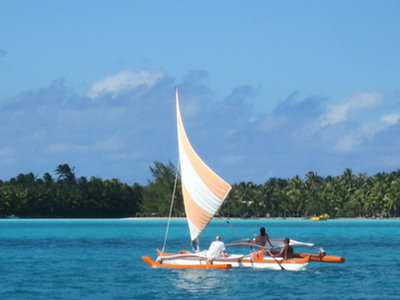 A Sailing Canoe (Tourist Version)
They pretty much got to see the whole island. You can't circle Bora Bora in a sailboat--the south end of the island is too shallow. But we went diving and the dive boat actually gave us a pretty good 'lagoon tour'.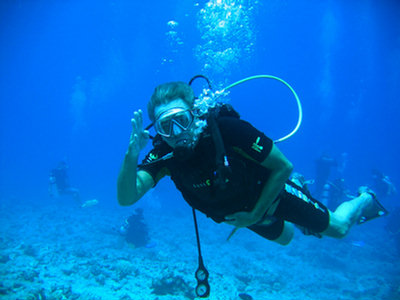 Cousin Fred Underwater
Fred did a refresher dive one afternoon, and the next morning Dave and I and Fred did a Manta dive and a Lemon Shark dive, while Suki hung out in the dive boat. We did see at least one Manta and a number of lemon sharks.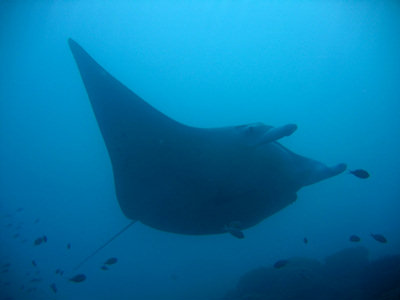 Manta Ray
The Manta dive is inside the lagoon, and so the water was a little murky. Dave did a great job with the camera to get this shot.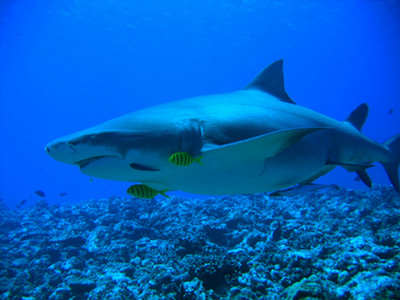 Big Fat Lemon Sharks
But the visibility for the Lemon Shark dive, outside the reef, was really nice. It's been awhile since we've seen such clear blue water!!. For those who are wondering, it costs $150 for a 2-tank dive, which includes pickup from any hotel or your boat. We used Bora Diving, and liked them a lot.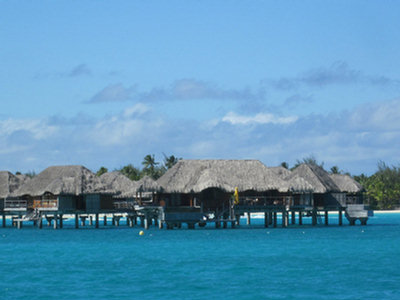 Swanky Hotels in Bora Bora
On their last night, Suki had booked a room in the 5-star Le Meridien Hotel. So we anchored off the hotel the night before and took them in after lunch to check in. They got one of those neat bungalows over the water, with a glass floor. You can snorkel right off your porch.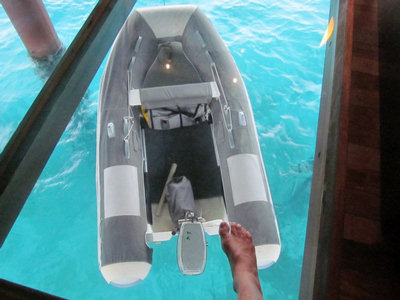 Our Dinghy Under Their Bungalow
We enjoyed their nice hot shower and sundowners in their room, and then went to the seafood buffet with them. After dinner was a 'Tahitian Dance' thing, but we thought it was even lamer than the one we saw at the Community Center in Huahine. Maybe it is because it is after Heiva has ended and everyone has hung up their grass skirts for the year.
We left them yesterday to enjoy the luxury of their hotel on the last day, and took Soggy Paws back around to the west side of the island. We ended up at the World Famous Bloody Mary's Bar. They have free moorings if you come in for a meal or a drink. We had 2 beers and 2 delicious designer cheeseburgers. It cost nearly $50, but was worth it. Late in the afternoon we went for a good snorkel in the dive area E of Pt. Matira. (see the
Societies Compendium
for specific waypoints for anchorages and dive spots).
Most of our friends have already left for points west (mostly Suwarrow). So we are ready to move on too. We can't check out until Monday, and we need to do some provisioning and refueling on Monday too. Then we will try to leave fairly early Tuesday. The weather looks good for a 24-hour run to Mopelia, the last atoll in the Society Islands.
-----
At 8/6/2011 9:54 PM (utc) our position was 16°31.69'S 151°44.64'W
http://svsoggypaws.com/currentposition.htm