After a very busy last week in Florida... wrapping up our affairs... a couple more doctor visits... a few more social visits... a few maintenance items on the rental properties... paperwork associated with the accident... etc etc, we fled chilly Florida for a very warm and inviting Hawaii.
Welcome to Hawaii Sign at Honolulu Airport
The cold front the last week were there was a nice reminder of how good we've got it. In Melbourne it was in the low 30's and even driving south to Miami, it was still awfully cold for this Florida girl.
It was a looooong flight back... we got up at 4:30am for a 7am flight from Miami airport, and then went via stops in Orlando, Chicago, and LA, before landing in Honolulu about 8:30pm (it was a cheap flight!). That's about 20 hours of traveling. But nice to have stops in between so we could stretch our legs. Chicago had been a mess from the big front passing through a couple of days earlier, and we were worried it would snarl us up too. But by the time we got there, it was fine.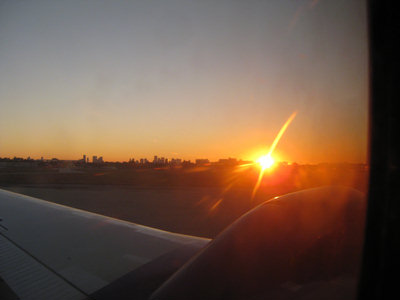 Sunrise in Miami on the Plane
John from Nakia, to whom Mike and Sue on Infini had passed our car to when they left, picked us up curbside at the Baggage Claim area, so we didn't need to mess with anything else. All our luggage made it. Nothing broken or missing. And we weighed in as usual at 49.9 lbs with 4 bags full of 'stuff' (plus sent a couple of shipments from Florida to Hawaii via USPS and freight).
The weather in Honolulu is just gorgeous! About 78-80 during the day and 68-70 at night. Perfect working and sleeping temps. And we have a new dock neighbor living aboard for the winter right next to us. So we don't feel quite so isolated out at the end of the dock (with all our cruising friends 20 minutes away in the downtown marinas). Our new neighbors are retired like us, and spend most of the year in their RV, and then come visit their boat in Hawaii for 3 months in the wintertime. They bring their lawn chairs out on the dock for sunset and are very sociable, so we've actually been stopping boat work 'early' to have a sunset happy hour and socialize.