Current Location: Anaho Bay, Nuku Hiva, Marquesas, French Polynesia 08°49.35'S / 140°03.89'W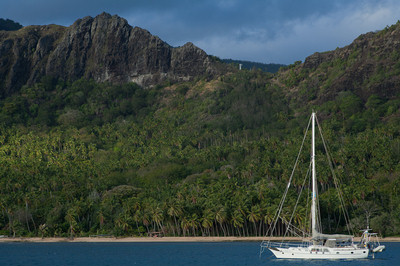 Beautiful Anaho Bay
Photo By Simon Scott
Our main focus while here in Anaho Bay has been getting ready for the two-week, 2100-mile sail to Hawaii. In between hikes and snorkeling expeditions, both us and our friends on Infini have been working on boat maintenance issues--bottom scrubbing, rigging checks, leak fixing, etc etc.
I have also pre-cooked about a week's worth of meals, so all I'll have to do is pull something out of the freezer and heat it up.
Plus I've spent a lot of time over the last month collecting weather information about the trip. Mainly just watching weather patterns so we know what to expect. It should be a pretty decent trip. We are starting on a good weather window--wind today should be just aft of the beam at 15 knots. We'll sail N-NNW for the first week or so, until we get across the ITCZ (motoring if the wind gets too light), and then fall off in the northeast trades for our destination of Hilo Hawaii.
Though
Sailmail
gives us great access to many bits of weather information, we have enlisted our friend Winnie, a professional meteorologist based in Florida, to keep an eye on the 'big picture' for us. We are also getting advice from a Danish guy named Karsten who has been doing Pacific weather for cruisers out of Panama for awhile.
We will be in company with 2 other boats--Infini and another boat here headed for Hawaii called Apple. Apple is a Jeanneau 44, and is likely to go faster than us--though he swears he'll try to slow down and stick with us.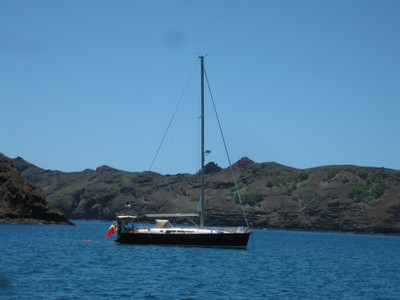 s/v Apple in Anaho Bay


We expect to make landfall in Hilo, Hawaii sometime the first week in October. The direct-line course from here is about 2100 miles, but because of the way the winds go between here and there, we may dog-leg east a little bit from a direct course.

In the last couple of months, we have finally gotten around to doing some of the less important tasks on our list--things like hooking our GPS to our EPIRB, so our emergency beacon will broadcast an accurate position if we sink. Though somewhat important, it never made it high enough on the list before our long trip to Easter Island. So we are more prepared for this trip than we ever have been. And the crew is ready...with over 6,000 miles under our belt already this year, we feel pretty seasoned!!

We plan to do a blog post and update our position at least daily. The easiest and quickest way to see where we currently are is via the Findu link:
http://www.findu.com/cgi-bin/find.cgi?call=KN4TH
But there are several other ways--check our Positions page on the website: svsoggypaws.com/positions.htm