We took the 'night bus' from Lima down to Arequipa yesterday. The direct trip takes about 15-16 hours, so most bus companies only offer an overnight trip. Though we missed the sightseeing, most of the route is dry desert... miles and miles of sand dunes.
We used the Cruz del Sur bus line, which has an online ticketing system, just like the airlines, you can reserve, select your seats, and pay online. We opted for the most expensive seats, what they call 'full cama' seats, which almost totally recline. So we had a much better overnight trip than we have on overnight plane flights.
Our plan was to arrive in Arequipa in the morning, drop our stuff at a hotel, and go see Arequipa (yesterday). The only problem is, somewhere in the last couple of days, we both picked up a stomach bug. So we spent yesterday hanging out in the hotel room, catching up on sleep, and staying near the bathroom.
We feel much better today, though not completely over the bug. But we're heading out to see the sights in Arequipa today, and have booked a 2-day trip into the Colca Canyon for tomorrow.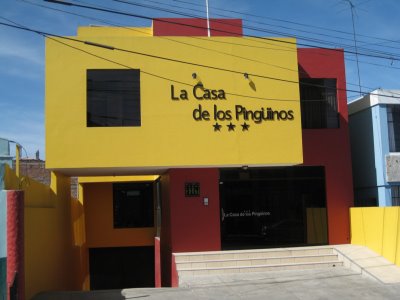 We are staying at
La Casa de Los Pinguinos
, about 5 blocks off the main square in Arequipa. It is run by a Dutch woman named Alex. It is a really nice place, clean and bright, great beds, hot water, great wifi, etc. Alex is very talkative and is a wealth of information about traveling in Peru. The cost is a little pricey for backpacker budgets, at $30 U.S. for a double with private bath. But they offer a really good breakfast, and Alex came to pick us up herself at the bus station. It is worth a few bucks extra here.