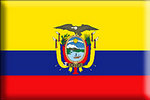 Well, after 2 months in Chile and Argentina, and another month in the U.S., we are headed back to Soggy Paws today.
In our travels in the U.S., we flew 4500 miles and drove another 3000 miles, and visited people in 4 states. Dave managed to fit in 4 days of golf, and Sherry managed one race on her old racing boat, Fast Lane. We made at least 6 trips to Walmat, a few to West Marine, and several to Lowes, Home Depot, and Ace Hardware. We're carrying about 150 lbs of 'stuff' back to the boat with us.
The trip back sounds like a nightmare, but it really was a pretty easy flight. We flew Spirit Airlines from Orlando to Ft. Lauderdale and then to Bogota, Colombia. From there we took an Avianca flight to Guayaquil, Ecuador. All our luggage arrived intact.
The only hitch was that when we presented our paid e-Ticket at the Avianca counter for the flight into Ecuador, they wanted to see our return ticket. No amount of discussing would change the agent's mind. But she personally took us to the Avianca reservations counter, and made us a reservation for a return ticket... but it was only a reservation... not a paid ticket. (Note: never asked for when we arrived in Ecuador).
We spent 2 nights here in Guayaquil at the Manso Boutique Hotel, right on the Malecon. Though we had a list of recommended cheap hotels from other cruisers, we got this one off Trip Advisor and booked it via HostelWorld.com. Carrying so much luggage, we didn't want to arrive with no reservation. It is $40/night and in a GREAT location.
We take a bus this morning to Bahia de Caraquez, so we should be back on Soggy Paws by 5pm. We are so looking forward to getting 'home'!