We are anchored off 'Graham's Place', which is a small resort on Josh's Cay in Guanaja.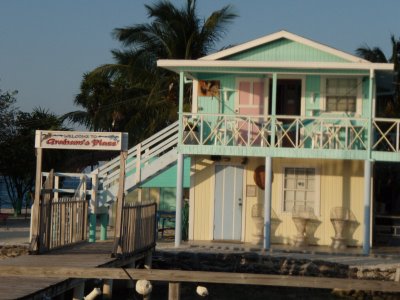 Josh's Cay is one of the small islands on the barrier reef that surrounds Guanaja, the easternmost of the Bay Islands of Honduras. This is a good staging point for the big jump to the Vivarios (or Vivarillos as they are also called) 150 miles to the east. We are right behind the reef, so we can easily see waves out there and feel the wind, and get an accurate picture of the weather we'd be getting into if we set out.
We have heard about Graham's Place from other cruisers. The word we got was that they welcomed cruisers and have free water, free wifi, free ice, and free moorings. It just sounded too good to be true, so I didn't really believe it. But it really is true!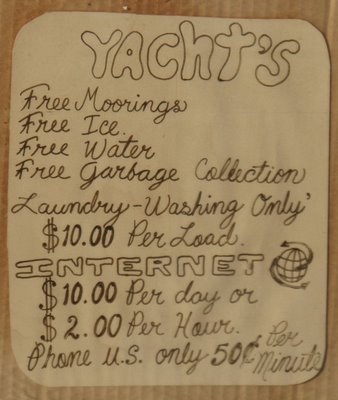 This is the first place in a year (other than Catamaran Marina in the Rio Dulce) that we have felt really welcomed. Usually we are tolerated for the dollars we spend. Most of the Guatemalans and Hondurans have no idea why we are here and what our priorities are... we are lumped in with all the other 'Gringos' (which include pretty much anyone from out of the area with white skin).
When we called on VHF Channel 06, on our approach, we were answered immediately by Reggie, who turns out to be Graham's most excellent chef. He directed us to the appropriate vacant moorings and welcomed us to come ashore.
The owner/proprietor, Graham, is originally from Grand Cayman, and he talks with a distinct Caribbean island accent. Over the past 12 years, he has built (and re-built, after Hurricane Mitch) this small resort, and still maintains it to American standards (ie the toilets flush, the lights work, the grounds are well-maintained, and the staff is knowledgeable and eager to please).
When we came ashore in our dinghies, he welcomed us on the dock, and encouraged us to come ashore and go whereever we wanted on his island. He showed us his ice machine and said to help ourselves if we needed some ice. He showed us the hose and said we could jerry-jug water if we needed it. We asked about coming in to eat at the restaurant and Reggie himself told us that he was open 24x7, and we didn't need reservations.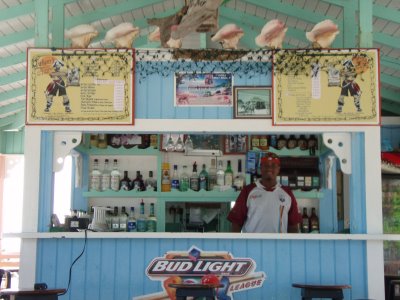 Larry the Bartender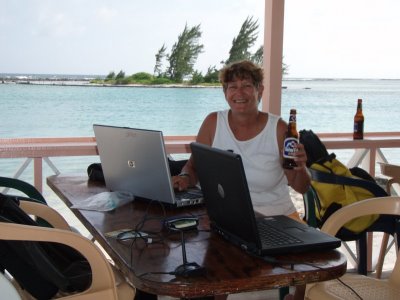 Sherry 'Doing Wifi' at the Bar
(Later we discovered that if we moved a little closer in, we could pick up passable wifi on the boat, with the EUB-362 and the external antenna)
Graham put in 7 moorings for visiting yachts to use when they are here, though only 4 are currently there. The anchoring is actually not too bad here, in good sand, but the shelf is 5' deep and rapidly drops off to 35', so sometimes it is difficult to find a good spot. We picked up a mooring for the first night, but since the wind was supposed to get up to 20 knots last night, we dropped the mooring and set our anchor. (Though Graham's moorings look pretty well tricked out, we have a general policy not to trust our boat in high winds to anyone else's equipment).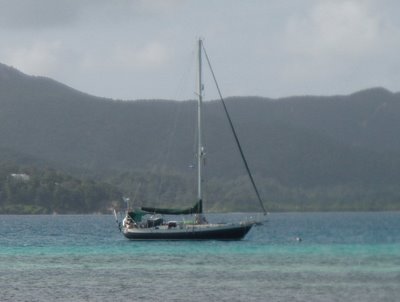 Infini on a Mooring
At the dock, Graham keeps a few pets in pens, including turtles, nurse sharks, grouper, conch, and lobster. When you hop out of your dinghy, they all come over looking for a handout.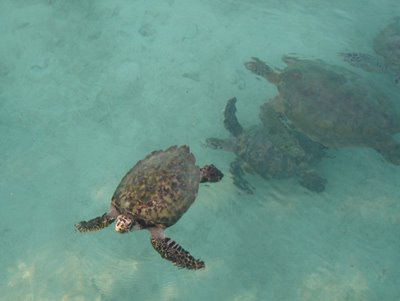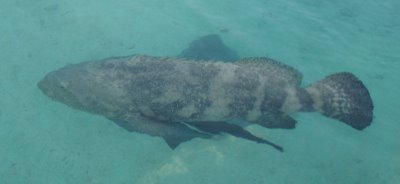 Yesterday was Valentine's Day, so we went ashore at sunset for a few drinks and dinner. The other two boats here were also ashore. One is Swedish and the other is Danish, and they have 3 pre-teen kids between the two boats.
One of the boats has just come up from Cartagena, so we got some recent information about the marinas there, and some good info about some inland travel within Colombia. Colombia has apparently become safe enough now for foreigners to travel outside of Cartagena. So now Dave has me researching a 6-day hike to see the 'Lost World' in Colombia.
I have finally gotten the correct position showing on our Findu/Shiptrack page. If you looked yesterday you would have seen our position as north of Roatan, 60 miles west of where we actually are. (Operator error in entering the position, one degree off). Now it is showing accurately and the Google satellite picture is amazingly accurate.
Today we plan to move a couple of miles south, closer to town. We heard the supply ship comes in from the mainland today, and it's the best time to get fresh veggies.