A lightning strike appears to have taken out the new $2500 satellite dish that supplies the internet here at Tortugal Marina. They had just got the new system fully stable yesterday!! With 2 brand new Wireless-G access points and good antennas, we thought we were in heaven. A big storm blew through yesterday with lots of lightening. I don't think it actually hit the dish, but hit a tree nearby. I haven't heard a detailed post mortem by the owner of the marina, but there's no wifi up this morning, so I am assuming the worst.
We came home from a trip in the middle of the storm, and ducked into the boat to get dry, so I haven't heard any marina gossip if anyone else had any problems. On Soggy Paws, we keep all our 110v and 12v switches off and the computers unplugged unless we're actually using them. So it doesn't appear we were affected.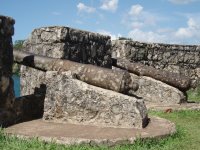 We went to the Castillo San Felipe on Sunday. We can see it from the marina, so it was just a short dinghy ride away. It is a small Spanish fort that was established in 1595 to guard the lake. They have recently restored it and opened it as a park. The brochure they gave us is in Spanish and we haven't fully translated it, but I think they were guarding some mines that are up on the lake shore, from pirates. Anyway, at the Castillo, there are a few concrete pads with nothing on them (ie not restored) and a monument nearby. When we asked about them our guide told us there was a big lightning strike on one of the dormitories, and a bunch of people got killed. The monument is in the shape of a lightning bolt, and is a memorial to the people that died.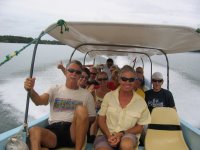 Our trip yesterday was in a lancha with 13 other yachties. The lancha is a long open boat with a big outboard, and the tourist version has covered benches. Someone has a son visiting and so are trying to show him all the signts. We paid 100Q per person (about $13) for the lancha and the guide to operate it for the day. He took us downriver on some of the back waterways. We stopped for a hike at the Manatee Reserve. Some of our Pacific coast friends were really excited to see the one manatee we saw. We didn't get too excited because we see them all the time in the Melbourne area. We paid about $3 pp to get into the Manatee Reserve, and there was a fairly decent interpretive center and then a very nice 20 minute hike on a trail through the rainforest.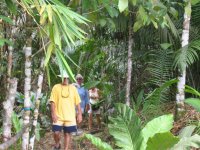 We didn't see much animal life on our hike because, with a group of 15 yachties, someone was always laughing and yakking. Dave and I and someone's son walked ahead to try to get away from the chatter, but by then everything in the forest for 5 square miles was gone. We did see a really cool Leaf Cutter Ant trail. This trail was a path through dense grass that was about 6" wide and wandered thru the jungle as far as we could see. In a square foot of trail there were probably 50 ants hurrying back and forth, about half of whom were carrying a big piece of a green leaf. It was good to get out and stretch our legs though.

One of the sights they pointed out to us was Ac Tenamit, a medical and dental clinic and school for the Mayan people living on the river. The clinic itself is housed in a houseboat... we could see a dentist chair through the sliding glass doors of the houseboat (and a bunch of people waiting). I imagine they make regular trips up and down the river system with the houseboat, as there are hundreds of families living on the river, with only a dugout canoe for transportation.
We had lunch in Livingston, the town at the mouth of the Rio Dulce. We had 2 hours while there to explore. Livingston is only a little bigger than Fronteras, the town near us upriver. We didn't find much in the way of groceries there... just the basics and some pretty old-looking fruits and vegetables. Dave bought a few bits of PVC pipe in a hardware store to complement what he'd brought along to put in the watermaker.
Livingston was an interesting mix of cultures. It is at the confluence of the Mayan people living in the interior/on the river, and the Caribbean blacks (called Garifunas here). So we had everyone in the street...Rastas selling trinkets, black ladies offering to braid our hair, touristas with backpacks, and Mayan men and women selling tortillas on the street. We got a table in a restaurant on the street and just watched the color go by.
On our trip back upriver, we stopped at Texan Bay Marina to say hi. Almost everyone in the lancha had stopped at Texan Bay on the way in, and several boats had become pretty good friends with them. I think one even had been towed upriver by them because of engine trouble. And the one boat who hadn't been there wanted to see it. The owners Mike and Sherry are unique characters and they are working hard to build a nice place for yachties to hang out. We had a beer at their Restaurante and then piled back into the lancha for the trip back to Fronteras.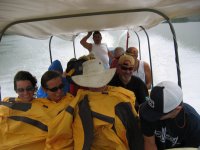 We had intended to stop at Casa Guatemala, an orphanage just downriver from Fronteras. However, big rain clouds were flowing down from the mountain range to the east of us, and heavy rain looked imminent. we raced the rain all the way home, and only managed to avoid the heaviest parts. Dave and I and another guy were in the very front of the boat, pretty much exposed to the rain. Of course we hadn't thought to bring raincoats. Though it rains nearly every night, we have yet to have much rain during the day. Fortunately it didn't rain very hard, but the raindrops that did hit us stung like heck because the boat was going so fast.

I WAS catching up on my internet stuff, and getting ready to upload a bunch of photos. However, the internet being down at the marina will slow me down again. But I will start posting our Belize and Guatemala pics in the next day or so.

A bit later... I hauled my computer in to the internet cafe in town to do email and post some website updates, only to find "No Hay Internet". The internet at Bruno's is down too. Rats...
See more photos of these 2 trips: Castillo San Filipe / Boat Trip to Livingston